WUE: Western Undergraduate Exchange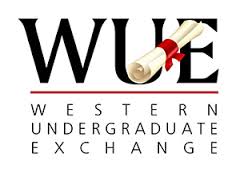 The Western Undergraduate Exchange (WUE) program is an opportunity for students in the Western states to receive reduced tuition at participating two-year and four-year institutions.  In order to participate, students need to be a resident in one of the following states: Alaska, Arizona, California, Colorado, Hawaii, Idaho, Montana, Nevada, New Mexico, North Dakota, Oregon, South Dakota, Utah, Washington and Wyoming.  Some institutions have limitations based on degree and certificate programs while some are limited to space-available or a first-come, first-served basis.  Application is a short one-page form which is submitted to the college of preference along with a copy of a valid driver's license, high school transcripts, and ACT/SAT scores.
For more information, check out the WUE by clicking here.
Janet DeMars, Director
Jaywalker U