Winter Solstice Celebration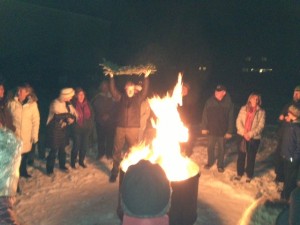 On this darkest day we celebrate the return of the light!"
Carbondale celebrated the longest night of the year in grand style at the Third street center Saturday Night. The Two Rivers Unitarian Univeralist congregation along Davi Nikent "Always Light", Center for Human Flourishing organized the annual Community Winter Solstice Celebration. The festivities began indoors with Music, lighting of the Yule Log, and brief history of the "stationary sun" and it's cultural significance. After paying tribute to the four directions, four elements, and the spirit animals they represent, we headed outdoors to toss our wreath of wishes into the huge bonfire. Then, the 100 strong crowd joined hands and began a spiral dance to pounding drum beats to welcome back the impending light. Finally we returned indoors to enjoy treats, hot cider, and fellowship.
The meaning of the Solstice celebration has varied from culture to culture, but many see it as a celebration of rebirth, involving holidays, festivals, feasts, and other rituals. The Winter Solstice held special significance to ancient agricultural societies because there was there was fear of starvation during the lean winter months. Many contemporary holidays have roots in the ancient Solstice Celebrations including, Christmas, Hanukkah, and Kwanzaa. Many see the Solstice as the turning point of the year.
Many of us in Recovery had to reach such a "turning point" in our lives when we made the decision to surrender our will and our disease to a Power greater than ourselves. We had been existing in great darkness and despair but the tools we learn in Recovery have returned us to the light. As stated in the forward to the Second Edition of the Big Book of Alcoholics Anonymous, " ..the number of members having substantial sobriety time behind them was sufficient to convince the membership that a new light had entered the dark world of the alcoholic.
Merry meet and merry part and merry meet again !
Mark Kloster
Alumni Coordinator