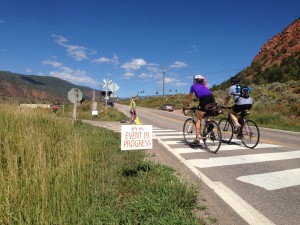 Science and Medicine can cure cancer. Radiation, chemotherapy and surgery can treat the disease. Yet healing a person takes more. It requires a comprehensive approach that treats the whole person – mind , body ,and spirit."
Elaine Grossman, head of Rally the Valley Sponsorship team, said, " Cancer is going to affect 1 in 3 of us, so they know a grandparent, and aunt, a cousin. You know, Cancer touches all of us." Cancer, not unlike the disease of addiction is cunning, baffling , and powerful. The disease not only ravages the victim but the victim's family and community. The camaraderie, support and love exhibited by the cancer survivor and recovery community reminds me of our program of recovery and the unwavering support we receive. My family has been affected by both diseases, Cancer and addiction, so it was a honor and a privilege to Rally myself and several Jaywalkers to volunteer our support for the Rally the Valley fundraiser for the Calaway-Young Cancer Center at Valley View Hospital.
By all accounts the second annual Rally The Valley was a tremendous success. Participants chose from a 24.5 mile bike ride or a 4 mile walk. Kids under 13 participated in Peyton's Parade. 100 percent of every dollar raised goes to patient support at the Calaway-Young cancer center. The Rally fund provides resources for integrated therapies, massage, acupuncture, survivorship programs and an onsite boutique and salon. In addition, patients can find companionship and strength through counseling and support groups. The comprehensive cancer program treats the whole person as they move from treatment into survivorship.
The men from Jaywalker "U" , alumni, and friends of alumni all Rallied together today to support another recovery community through volunteer service. The opportunity to give back, not just to our recovery community but, the community at large which supports our recovery efforts is very gratifying. After serving as course marshals by directing the bike riders we joined participants, volunteers, and organizers for a healthy lunch of veggie burgers and Kale salad at the post event celebration. What a great way to spend a beautiful fall day.
For more information please visit the Valley View Hospital Foundation website.
With Gratitude,
Mark Kloster
512-413-1350