Welcome Patrick Young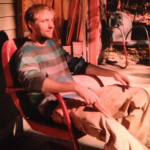 Jaywalker Lodge welcomes out newest counselor, Patrick Young. Patrick is a 2009 graduate of the Solutions program so is well versed in the Jaywalker culture and 12 step recovery. Patrick holds a Master of Arts degree from the Hazelden Graduate School of Addiction Studies. He is licensed in the State of Minnesota as a LADC which he is working on converting to Colorado Certified Addiction Counselor (CAC) status.
Patrick most recently worked at the Dakota Treatment Center is Burnsville Minnesota and has done internships at the Jellinek and Tiebout units (Hazelden) as well as at The Retreat. Prior to entering the addiction field as a professional, Patrick worked as a journalist for the Durango Herald. While at the Hazelden Graduate School of Addiction Studies, Patrick won the Excellence in Writing Award for "Secular and Sober: Promoting post treatment Alcoholics Anonymous participation among atheist and agnostic patients."
Patrick brings much enthusiasm with him to Jaywalker and we know he will be a great addition to our clinical team.
Jeff Kremer
Director of Clinical Operations
Jaywalker Lodge