Weekend Holiday Services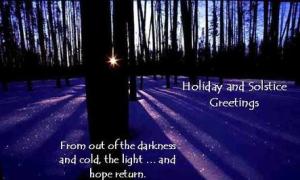 Winter Solstice and Blue Christmas Services
The Holiday season can be a challenging time for those of us in Recovery. Relapse rates tend to be higher and anxiety and depression can present some difficulty in coping with the season. Here are a couple of amazing services coming up this weekend to help us celebrate the season with serenity and sobriety.
COMMUNITY SOLSTICE CELEBRATION
Welcoming the community to
INDOOR CEREMONY ☼ MUSIC ☼ BONFIRE ☼ Cookies, Cider, Hot Chocolate
Saturday, December 20th, from 6 – 8 p.m. Third Street Center, Calaway Room
Join us in celebrating the return of the light and pay homage to the power of the sun. The Two Rivers Unitarian Universalists Children's Chorus under the direction of Jimmy Bryne will sing. We will honor ancient Earth-based traditions, call forth the spirits of the four directions, tell a Native American story about the gift of fire, celebrate our movement toward sustainable sources of energy, conduct a New Year ritual, join in spiral dance around the bonfire and host a holiday reception for the community.
ADMISSION: Bring an non-perishable food or pet item for donation to Lift-Up.
Sponsored by Two Rivers Unitarian Universalists and supported by Davi Nikent, Center for Human Flourishing.
BLUE CHRISTMAS
What's so "merry" about Christmas?
For many people, the holidays are the happiest time of the year. For others , it is a time of wishing there was more to give, of loneliness, or of depression. Pastor Brad has two words for people who are feeling any of the latter; " It's OK"
Service is open to all. A peaceful evening of Prayer, scripture, and music
Carbondale and Basalt UMC's will be hosting a special "Blue Christmas" service Sunday, December 21, at 6 p.m. at the Carbondale Community Methodist Church on 2nd Street.
With Gratitude,
Mark Kloster
Alumni Coordinator