We Can't Go It Alone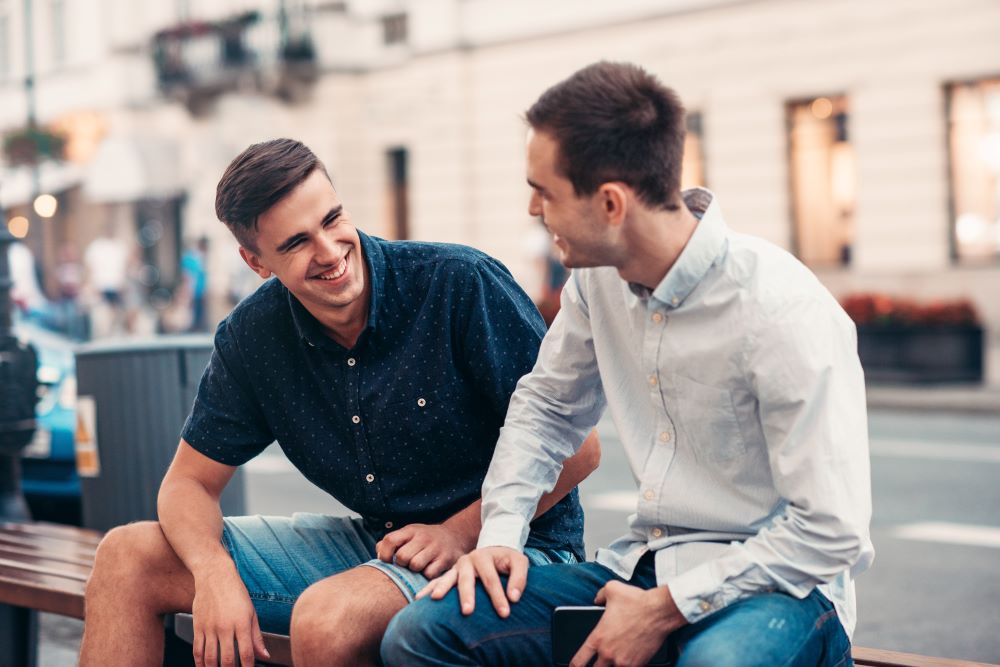 There's an old proverb that says, "If you want to go fast, go alone. If you want to go far, go together."
In recovery, this proverb holds true – although if you travel alone, the only place you go fast is into a relapse. In our lives prior to getting sober, we likely spent a lot of time alone, whether by choice or because we'd driven people away. When we come to recovery at Jaywalker Lodge, we find a thriving community ready to welcome us in. We quickly learn that brotherhood and fellowship are a vital piece of the recovery tapestry.
We can't go through the 12-Steps alone. We can't have a meeting alone – we'd just be talking to ourselves! We can't fellowship alone. If it had just been Frodo by himself, they wouldn't have called it the Fellowship of The Ring – it would've just been the lonely little guy and a ring. We can't be of service alone. We need someone to be of service to.
We simply can't go it alone, and after a little thought, why would we ever want to?
Community Enriches Life
It has been said before that life is better shared, and that's pretty easy to prove. How much better is good news when we have someone to tell it to? We can celebrate our success with those closest to us. When times are less than successful, we have our friends and community to lean on. They can provide insight and support when we need it most. They can make the good times better, and the harder times much less rough. We can learn from those in our inner circle, and we can teach them what we know. So often in recovery, it's those around us who recognize the changes in us before we see it for ourselves. Our brothers are our mirror, our trudging buddies, and our tribe. What that truly adds to life is incalculable.
An Invaluable Resource
The overarching goal is for every graduate of our program to have a meaningful relationship with both the 12-Steps and the recovery community that surrounds us at Jaywalker Lodge.
Having a community grounded in recovery and the 12-Steps is an invaluable resource. A strong, healthy sober community can lift us up and keep us pointed in the right direction. They can keep our spirits up when things get us down, they can walk us through the rough patches, and guide us in unfamiliar terrain. We can ask for help and be taught things we don't know. We have the opportunity to be of service, and share who we are with people who are happy to have us in their lives. Having people around – people who we are close to – makes every part of life and recovery better.
How Blessed We Are
So many addicts and alcoholics have spent much of their lives alone, searching for home and community. All of humankind, after all, have an innate desire to feel a part of a community. Some even make it to recovery and refuse to make themselves at home. How lucky we are, those of us who have found brotherhood in recovery at Jaywalker Lodge. Finally, here is the tribe we have spent our lives looking for. How truly blessed we are, just to be able to walk in the fresh air with people we love, and who love us. The joy of being able to talk, laugh, share, embark on adventures, and weather storms – all made better by being together. Having a wall of sober friends is a priceless thing. Being able to say we have found our people, and we are home, truly makes us blessed.
Relationships In Recovery
A life in recovery is about so many things. Learning new ways to live, new ways to see our lives, new attitudes and outlooks, new habits and hobbies. Life in recovery is about healing, joy, health, helpfulness, and participation in life in ways we could not have imagined before. Page 132 of the Big Book of Alcoholics Anonymous says it best: "We absolutely insist on enjoying life." Recovery has so many wonderful things for us, but we can see how much of it is about our relationships.
The 12-Steps guide us on a path toward building a relationship with our higher power. They also walk us through amending and healing the relationships we've had since before getting sober. Those same 12-Steps then give us guidelines for fitting ourselves to be of maximum service in the relationships we currently have. They teach us how to become people who bring peace, love, joy, and helpfulness into all our relationships, in every area of our lives. While all of this is going on, we're building relationships in recovery, with our sponsor, the people getting sober with us, and the fellowship showing us how to live sober.
Recovery is about community, fellowship, relationships, and an unparalleled sense of belonging that so many of us have been seeking our whole lives. Think about how incredible it is to finally have that brotherhood around us. Like-minded men who understand where we've been and where we're going. We no longer need to hide who we are. We find the companionship which allows us the freedom to embrace hope, joy, love, and to become who we really are.
Have you grown tired of doing it on your own? Are you ready to accept help, and give yourself a chance to live as part of a loving community? We at Jaywalker Lodge would be happy to have you with us. We know what it's like out there alone, and that's why we've built such a strong community here. Come and be part of our tribe. Call us now at (866) 529-9255.