We Believe #9: Fostering an Environment of Honesty, Intimacy, and Trust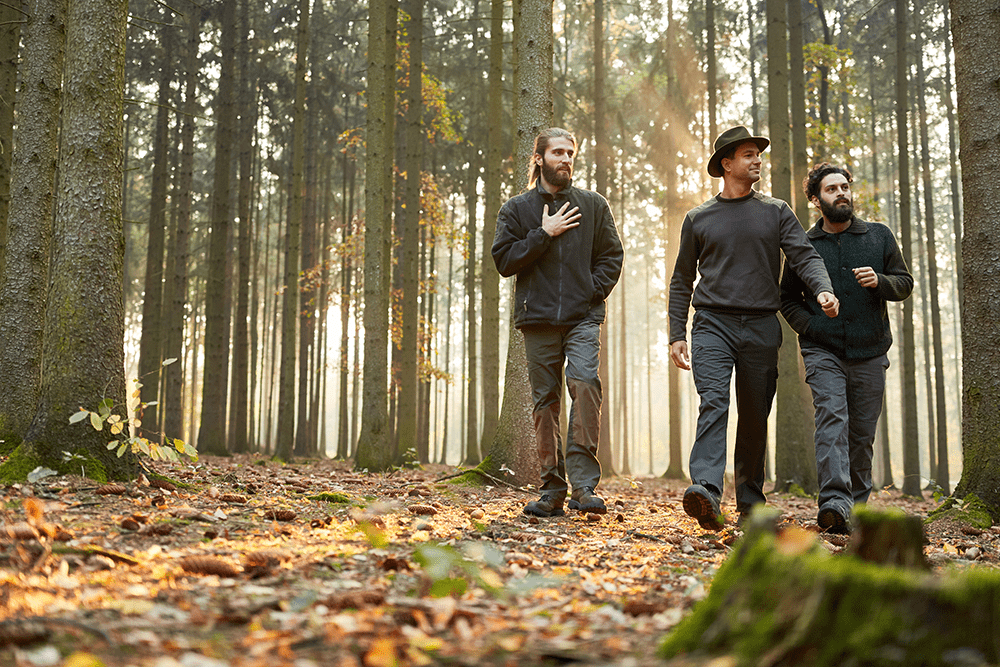 At Jaywalker Lodge, we focus on helping men find lasting recovery from alcoholism and addiction with a passion for helping those who have stumbled in previous attempts. This is not just what we do, it's who we are. Most of us were once people in the exact same position, and that's why our hearts so fully invested in what we do. We care because we know what it's like.
The very spirit of Jaywalker Lodge and what happens here has a heart of its own, too. We are guided by our shared core values — they influence every single thing that we do, every single day. This is why Jaywalker Lodge is special, it's why we do what we do, and it's why we're able to help alcoholics and addicts find recovery. We live by what we believe, and we want to share it with you.
An Inspiring Environment Both Inside and Outside
Let's take a closer look at We Believe #9: We believe the role of our clinical team is to foster an environment of honesty, intimacy, and trust among our men. We value the peer-to-peer relationship above all else. If you look at our clinical team, you will find a wide range of multi-disciplinary addiction recovery treatment professionals. Many of them know about recovery first-hand from their own life experiences. At Jaywalker Lodge, it's not just a job or a mission statement, but it's a real part of our own lives. We know what it takes to find recovery, not just from a professional and medical standpoint, but from a personal understanding as well.
We make sure to focus on the 1st-Step intensively, and we stay rooted firmly in the 12-Step program of recovery all along the way. We understand the importance of community, service, and time in nature, as well as physical, mental, and emotional health. We stay active and we engage in individualized and personalized therapy, as well as group therapy. We attend recovery meetings, Jaywalker alumni meetings, and we get busy being of service to others. We know that all of these things contribute to a healthier, happier recovery, as long as we keep the 12-Steps at the center of our actions and lifestyle.
As beautiful and plentiful as the Rocky Mountains are, the environment we cultivate inside Jaywalker Lodge is the thing you'll take with you everywhere you go from here. We understand the responsibility we have to make your recovery and life the best it can possibly be. Our clinical team and our entire staff do not take that responsibility lightly.
Honesty
Our role is to make Jaywalker Lodge a place where honesty, intimacy, and trust are not only supported and facilitated, but where they are bred, upheld, and fostered purposefully. We value honesty for a host of reasons. For starters, honesty is one of the primary things necessary for a successful recovery. We must be honest with those who help us in our recovery journey, we must be honest with our sponsor and our recovery community, and we must be honest with ourselves. By incorporating individualized and personalized treatments and therapies into the Lodge curriculum, we make sure to be honest with you in hopes that you'll be honest with us. If we can achieve honesty, we can address the real issues and find the real solutions among our versatile approach to recovery.
Honesty isn't just the best policy — it's a life-saving one. We tell you who we are, and we hope you'll do the same. We only stay as sick as our secrets. So we hope that you'll continue the practice of honesty for the rest of your life, so you can experience the full scope of healing, connection, and transformation possible in your recovery.
Intimacy
Intimacy is hard for some men, and part of that includes trust issues. But even intimacy on its own is a struggle. Men are taught that intimacy and closeness among men are unacceptable, a sign of weakness, or worse. This is a deadly lie. It encourages men to keep secrets, avoid asking for help and stay isolated. For those who struggle with alcoholism and addiction, keeping secrets, not asking for help, and isolating can literally cost us our lives. At Jaywalker Lodge, we make no bones about the importance of intimacy, and we do our best to make this a place where men can find it easy to form close bonds and be vulnerable.
Intimacy among the men at Jaywalker Lodge is vital, not just among those in the Lodge but among our alumni as well. We share meals, we do service work together, we attend meetings together, and we share openly and honestly with each other. This creates an environment where intimacy is easy to engage in and the beautiful effect it can have on our lives is seen in real-time.
Trust
Trust is something we also take very, very seriously. It's hard to be honest or intimate without trust. Having a place where honesty is practiced and upheld everywhere and being in a place where people aren't afraid to be honest and intimate goes a long way in making Jaywalker Lodge a place that fosters trust.
We hope you realize that you can trust us right away and that we can trust you to be honest, willing, open-minded, and real with us. You'll need these things as you work the 12-Step program of recovery, so we go to great lengths to make them easy to practice and experience during your time at Jaywalker Lodge. In life and in recovery, good relationships are built on honesty, intimacy, and trust.
For alcoholics and addicts, honesty, intimacy, and trust can be unfamiliar things. This is why Jaywalker Lodge works hard to create an environment that actively encourages and facilitates all three. These attributes, along with other attitudes and personality traits, can positively impact not only our recovery, but our entire lives. Fostering honesty, intimacy, and trust is a responsibility that we at Jaywalker Lodge accept and take very seriously. Recovery for all who come to us is our goal, and it's an experience many of us have had ourselves. So we know what it takes, and we do everything we can to help others access the same tools we've used for successful recovery. We stay rooted in the 12-Steps and we don't shy away from spirituality, openness, or intimate community. We know these ingredients are key, and they are bountiful at jaywalker Lodge. If you have struggled with achieving lasting sobriety, we can help. Call Jaywalker Lodge now at (866) 529-9255.