"WE BELIEVE" #1: The Relentless Pursuit of Joy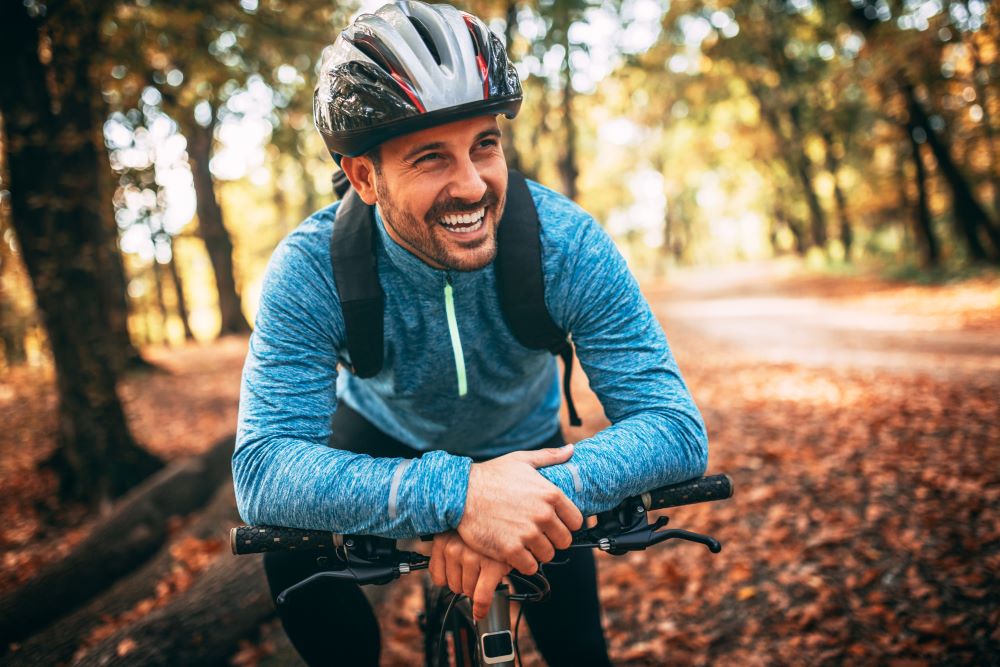 At Jaywalker Lodge, our every action is guided by our values. We have 12 core beliefs that shape who we are and what we do. Our Jaywalker philosophy not only defines us, but we believe it also makes a big difference in helping men achieve fulfilling long-term recovery.
This philosophy of values is known as our "We Believe" statements. There are 12 of them, just like there are 12-Steps in the recovery program. In order for you to get to know Jaywalker Lodge better, we are going to deep-dive into each one of the "We Believe" statements, starting with our first one.
#1. "We believe in the relentless and unapologetic pursuit of joy in recovery, intimacy among men, and a power greater than any one of us."
This is our first belief because it stands as the foundation of all we do at Jaywalker Lodge. This heartfelt statement is a huge part of what makes us effective. All of our beliefs are important to us – we don't just believe them, we live them. We use them to guide everything we do. This first belief is the one that all the others stem from. It is the heart of our philosophy.
If recovery does not make you happy to be alive in a life that is ever-increasing in love, meaning, and abundance, then you simply won't be driven to stay in recovery. If we didn't learn how to love others and how to allow ourselves to be loved, we wouldn't have been able to experience the fullness of potential as men and the beauty of a full life.
There is power in those beliefs, and we are not ashamed to admit our belief in a power greater than any one of us – a power that has pulled each of us back from the brink of addiction, insanity, and near-death.
The Relentless and Unapologetic Pursuit of Joy in Recovery
What does that really mean? What does it look like? It means that your life in recovery is not a punishment for your past in addiction. If you're like us, you probably need to get sober before you can learn how to accept happiness and joy into your life. That is one of our main goals at Jaywalker Lodge. We aim to prove to you that having joy in your life is possible.
We want to show why you deserve it and how to allow yourself to have it. And then we can begin that relentless pursuit of joy! Most people who struggle with addiction feel unworthy of a good life. We know what that feeling is like. But we also know that alcoholism and addiction are punishment enough.
If you're lucky enough to be one of the alcoholics or addicts who survive and seek out treatment, then you've already suffered plenty. Life in recovery is not about punishment. We set about amending our past, and we do the work to clear our wreckage to get free. Freedom is the point of recovery, not paying for our past.
In order to stay in recovery, you need to understand that a sober life is about hope, joy, and fulfillment. We want to help you allow yourself to be happy. We want to give you permission to begin pursuing the life that will bring you joy. That pursuit of joy is what got us here, and we want to share that path with you.
Intimacy Among Men
Lots of alcoholics and addicts know what loneliness is like. Maybe we grew tired of companionship, or maybe we drove our loved ones away. But most of us grew to expect the lone-wolf sort of life, even though it was painful. In recovery, the lone wolf usually doesn't last too long. We have to learn how to break the habit of isolation. We can grow too comfortable with the discomfort of that lonely space. Now it's time to learn how to be part of a community again.
Men get a lot of mixed messages about intimacy, but when we take the right steps to allow people into our lives – and make the effort to be part of theirs – our lives start to become more full than we could have ever imagined. We find that people really do want us around! They're happy to be with us and share their lives, and we're happy to do the same.
We learn how to be close to people, and how to be real and honest with other men. We all grow when we learn how to do that. Jaywalker Lodge comes complete with the unique feature of a built-in and very active sober community of men. A life in recovery becomes a full life fast when we join in harmonious brotherhood with our fellow man.
A Power Greater Than Any One of Us
You don't have to believe what we believe. You don't have to call it the same name or see it the same way. We don't have to see the same thing when we think of the phrase "a power greater than ourselves" or "higher power." That is a deeply personal decision and relationship. We can't take you down the path, but we can facilitate your path to understanding a power greater than yourself.
That higher power did for us what we could not do for ourselves – it showed us how to get and stay sober, to live happily and help others, and to lead full lives surrounded by amazing people. That power greater than ourselves is in action throughout the program of recovery. It is evident when we come together to go hiking, have dinner, or share together in meetings, it is there when we open ourselves up to the joy of a life in recovery.
Just a few people getting together to stay sober and laugh and learn is a power greater than any one of us alone – and that power can do amazing things in our lives when we work with it.
At Jaywalker Lodge, we believe that anyone can get sober, regardless of their past. As long as you are capable of being honest, and honestly want to get sober, recovery is possible. We believe that everyone deserves to live a life that is overflowing with joy, abundance, meaning, and love. We believe in the relentless and unapologetic pursuit of joy in recovery, intimacy among men, and a power greater than any one of us. If you need help, call us today at (866) 529-9255.