Village of Hotevilla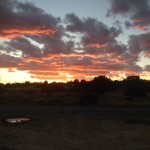 On Saturday evening, the Solutions team arrived at the Village of Hotevilla on the Hopi Reservation.  The Hopi land occupies some 2,439 sq. miles in Arizona and the population is just under 10,000 people.   We were given the opportunity to camp on a Hopi woman's land which was the headquarters for the Red Feather volunteers.  Set on top of the Mesa, the site included Bonnie's family home, a truck which served as the kitchen, outside picnic tables, a dishwashing station, an outside shower area and porta-potties.
As we looked across the Mesa that evening, rain clouds threatened us.  The volunteers from across the country scrambled to pitch their tents . With the arrival of howling winds, rain and hail, we quickly surmised that we were in for an adventurous trip.  Many volunteers chose to sleep in their cars to provide more shelter from the cold nights.  As the week progressed, the weather spirits were with us as we experienced sun-filled days, magnificent sunsets and starry nights.
This was the second Solutions trip to the Hopi Nation where we partnered with Red Feather Development Group.   The Red Feather Development group works with American Indian Nations to develop and implement sustainable housing needs within their communities.  Red Feather allied with the Hubert Sekayumptewa family to build a post and beam, straw bale, energy efficient, sustainable home.  Currently, Mr. Sekayaumptewa lives in rented employee housing for the Bureau of Indian Affairs.  He has worked for BIA for 27 years.  However, when Mr. Sekayaumptewa retires within a year, the family (including his wife, daughter and two grandchildren) need a place to live.   Solutions joined the Redfeather Build for the week of September 27 through October 3, 2014.
We worked hard for the next week.  Tasks included hauling bales of hay, framing,  installing insulation, carving out windows, cobbing mud & straw for the floors, roofing, plastering and kitchen duty.  The Hopi culture is family oriented and the land is still their own.   Throughout the years they have carefully guarded their traditions and have been sought by others as a model of people who preserved their traditions.  The Hopi people we met were gentle and welcoming, showing us gratitude for our work.   Solutions men basked in this reverie, honoring our motto – "The best way to find yourself is to lose yourself in service."
Jacquie Wheeler
Senior Counselor
Solutions