Transformative Weekend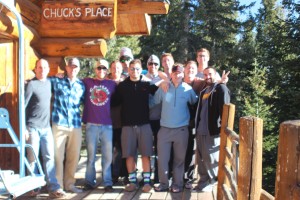 The tremendous fact for every one of us is that we have discovered a common solution. We have a way out on which we can absolutely agree, and upon which we can join in brotherly love and harmonious action. This is the great news this book carries to those who suffer from alcoholism." pg. 17, Big Book of Alcoholics Anonymous
It is difficult for me to describe the immense gratitude I feel towards the men I had the honor and privilege of spending the weekend with at Chuck's hut near Vail Pass. I feel I have truly experienced genuine "intimacy amongst men" in our spiritual journey to renew and rededicate our commitment to long term recovery and the carrying of the AA message. We had Jaywalker Alumni representing years from 2006 to 2013. We had recovering addicts with several years and those with a few weeks. Regardless of the length of sobriety, these men all committed and completed an Intensive 12 Step Big Book Study over a three day weekend.
Tyler R., our facilitator, did an incredible job of taking us through the first 103 pages of the Big Book line by line. He shared his strength, experience, and most importantly his hope of the Program of Recovery. He created a safe and sacred environment that fostered rigorous honesty and trust. We learned, laughed, loved and yes, shed tears together. The incredible setting at almost 12,000 feet of majestic beauty was the ideal backdrop for this transformative weekend of self discovery.
My expectation for the weekend was to deepen my knowledge of the twelve steps and better prepare myself to carry the promise of Recovery to others. Although I felt I accomplished that, the greatest gift was the deep connection and bond I developed with my brothers in Recovery. This intimacy allowed me to honestly look at myself and share my experience with another man in recovery. I was reminded of the hopelessness and powerlessness of my life in addiction and promise of the spiritual solution that AA's Design for living provides.
At our closing check-in I heard words like; miraculous, togetherness, serenity, freedom, spirituality, and love. These are sentiments I share and evidence of the promises available by shedding our old ways of thinking and embracing the true freedom and joy of Recovery.
With Gratitude.
Mark Kloster
Alumni Coordinator and " Recovered Alcoholic "