Trail Work at Gold Butte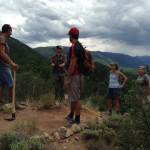 Yesterday five Jaywalker employees (Lynn Sanson, Natalyn Cumings, Donnie Hagenbart, Janet DeMars and myself) headed up valley on a small group outing. During the trip up, Lynn filled us in on the changes of ownership of the private land Gold Butte is on and how it came back to being an open trail. He also told us that about 95% of the trail work has been done by Jaywalker clients and staff. I think that's pretty impressive. When we arrived we met Jade from Pitkin County Open Space and Bob from Ute Mountaineering. Jade showed us the tools we would be using for the day and we headed up the trail to our destination. Our work consisted of cutting into the rocky soil to put in rock walls, hauling heavy rocks for this purpose, and digging up the trail to make it more even. It was hard work and hot, but none of us complained. We were thrilled to see so many rock climbers around us, including one with an adorable 9 week old yellow lab. The view from where we were working stretched from Mt. Daly through to Independence Pass. It was breathtaking and a wonderful reminder of why we are so blessed to live here. I've always wanted to work on a trail. I hike fairly often and firmly uphold the pack in pack out rules. So, to be up there on this beautiful Colorado day, sweating, working hard, sharing many laughs, learning more about my coworkers, making a difference on this one trail in our valley was a true joy.
There is something to be said about service work; you work to improve something and yet you end up improving yourself along the way.
Thanks Natalyn and Lynn for this wonderful outing. I'm thankful that I got this opportunity to give back and I will be one of the first in line to sign up again.
"The Mountains are Calling and I must Go," John Muir.
Penny Brown
Administrative Coordinator
Jaywalker Lodge