Traffic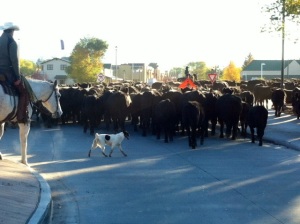 I'm not a fan of traffic, in fact I don't know many people that are.  I lived in Chicago for a few years and had to deal with rush hour traffic on a daily basis.   Living in this valley we are blessed with not having many traffic jams and those usually come from an accident, weather and the occasional cattle drive.   I was stuck in one such traffic jam today as I brought the back roads to work and I have to say I didn't mind one bit.
There's something wonderful about watching a cattle drive.   The steam of each breath the cowboys and their horses take.  The cattle dogs running back and forth to keep the cattle in line, biting at their heels when they delay or wander in the wrong direction, the quick look up to one of the hands for approval  and then off they go again.   The sudden break of a cow up a hill and the fast response they make to bring it back to the herd.   The teamwork, the creak of a saddle, the full beard of a cowboy to keep him warm on our cool mornings, the young boy on a horse learning from his dad and mom and surrounding it all, is the beauty of this valley.
It took over 30 minutes to travel a little over a mile and reach the roundabout in Carbondale.  As I watched the cows go into the construction site and up HWY 133, I felt the wonder of it all.   Over 30 cars behind me and countless cars coming towards us; and yet each person had a smile on their face.   That's the beauty of this type of traffic jam, it gives us time to enjoy our scenery and those around us, to see a tradition that has been in this valley for years unfold right before our very eyes, the ruggedness of it, the strength and hard work it takes, and the chance to reflect on this Colorado way of life.
So this morning I was stuck in a Colorado traffic jam.    I hope you find time to enjoy a "traffic jam" of your own soon.
Penny Brown
Administrative Coordinator
Jaywalker Lodge