Third Street Center State Fair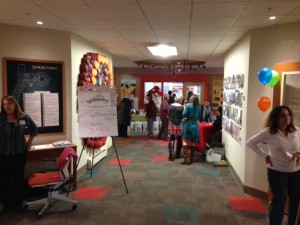 Follow us to the Third Street Center an see what the hubbub is all about…The fall fair is open to everyone." Kat Rich volunteer event coordinator
The Third Street Center here in Carbondale was bustling with activity Friday evening. This was the inaugural "State Fair" event which featured a carnival atmosphere with performances by local artists and musicians, games, food, and fun for kids and adults alike. I had the opportunity to play Eco-jeopardy, hear some great music, and install a leaf on the Gratitude Tree. There was a chili cook-off (I'll have a vegan entry next year), a Cake Walk with our very own Rocky's famous Death by Chocolate cake and ample quantities of State Fair food and snacks.
The TSC ,Third Street Center is a community place that promotes inspiration, sustainability, and creative exchange. This event was a "Friend – Raiser" to show its gratitude for the community's support. " This event provides the chance for people to get to know the organizations and people that make up the Third Street Center, learn what we are about, and celebrate the center as a community," said volunteer event coordinator Kat Rich.
The TSC is home to Jaywalker's MIOP (Modified Intensive Outpatient) Program and A New Path's Inspired Living Program. These valuable programs extend the continuum of care for men in recovery. Please click on the above links to learn more about these programs. In addition, the 12 Step fellowship community holds meetings in the Jaywalker Space including ACOA (Adult Children of Alcoholics) on Wednesday and Sunday nights.
One of the essential keys to long term recovery is the ability to reintegrate into community. The incredible community spirit of Carbondale and the Third Street Center are integral pieces of the Long Term, Open community model of Recovery we offer at Jaywalker.
With Gratitude,
Mark Kloster
Alumni Coordinator