The Importance of Continuity of Care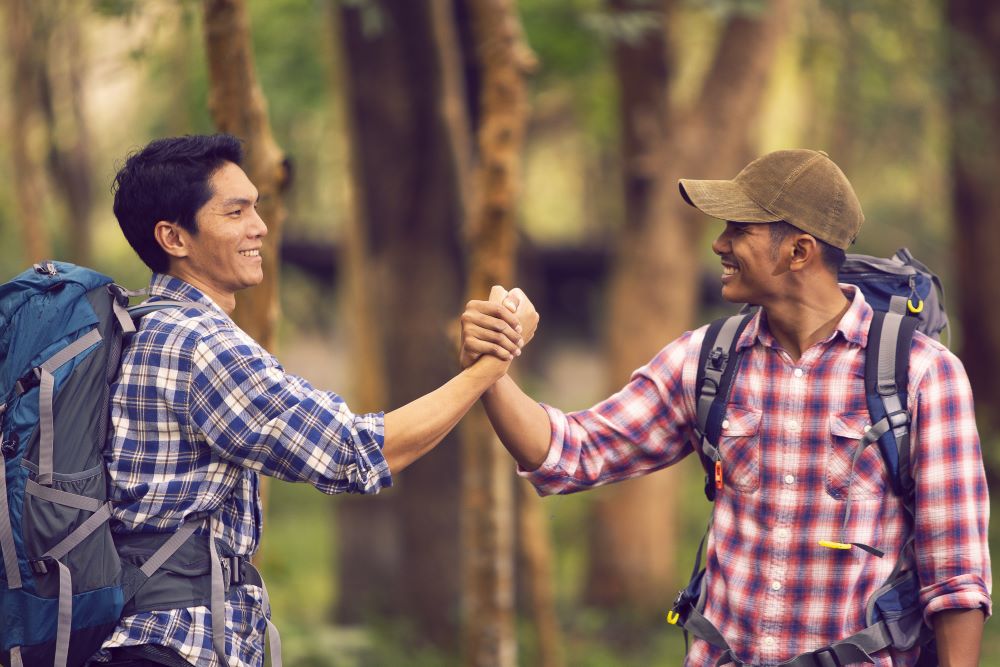 Arresting active addiction is a necessary prerequisite for beginning life in recovery, and it can happen in rehabilitation facilities. Yet getting physically sober is not the same as beginning and maintaining a life in recovery. That is where the Jaywalker model and the importance of continuing care come into play.
Most of the men we deal with are no strangers to having their addiction physically stopped, whether in a hospital or otherwise. They are also frequently familiar with picking up a drink or drug again shortly afterward – no matter how badly they don't want to.
Sobriety is a physical condition, but recovery is a life-changing experience that makes a huge difference in the repeating pattern of attempts and relapse. At Jaywalker Lodge, we aim to identify the causes of chronic relapse and then address them. Our programs combine to form an available pathway for the willing to walk into a life-long journey of recovery.
Breaking the Cycle
Beginnings can be hard, but victory comes in the day-to-day. Without proper education, familiarity, and integration of the pillars of recovery into their lives, many are left too vulnerable to relapse, and start the cycle all over again. Continuity of care can be vital to those who struggle with chronic relapse.
Sobriety is not just physically separating someone from their addiction – it is helping them discover the true nature of their illness and introducing them to a power they've never had access to, and a tool kit which they are unable to acquire on their own. These processes take time, and how much time depends on the individual. But a longer runway always makes for better take-offs.
The nature of their disease and their relationship to their addiction must be discovered and realized. The trauma, mental health issues, and whatever else is holding them back must be addressed through various individual-specific therapy methods. Life skills and healthy coping methods must be taught, understood, and practiced.
Most importantly, for chronic relapsers to stay sober, a life worth staying sober for must have its foundations built in early recovery. We know these things work, because they worked for us. We also know how to implement these vital components into the lives of willing people who still struggle with their addictions.
The Landing
Our Jaywalkers start out at The Landing, which is their first step in continuing care. This is where we get to know them and build their individualized treatment plan. It is also where they get to know us and what we do here. It's different from anything else they've ever been through.
It's their first exposure to a whole new experience in recovery, as we transition them out of the typical rehab experience and into the Jaywalker experience. They need to decide if they want what we offer while we uncover how best to help them as we move forward. Even though The Landing is their first step with us, we begin integrating them into the fullness of the Jaywalker community.
A strong relationship with their community and close relationships within that community are two indispensable and life-changing foundations upon which we build success in long-term recovery. Success in treatment is easy for most of our guys, but success in a long, full life is what we're really after.
The Jaywalker Lodge
Next we have the heart and soul of our program, the Jaywalker Lodge. They will stay with us for 90 days or longer, as they experience the benefits of our proprietary blend of treatments, therapies, and our recovery philosophy. We are heavily and unapologetically grounded in the 12-Steps, faith, and love.
In addition to helping them deal with emotional and mental health issues, we deep-dive into their relationship with addiction, helping them to fully grasp and understand the meaning behind the first of the 12-Steps. We believe this is critically overlooked too often, and we aim to make sure it doesn't get missed or misunderstood. At the Lodge, they also become fully ingrained in our Jaywalker community.
We have alumni meetings, nature adventures, hang-out sessions, sports, all with our alumni involved. The alumni even lead our group service activities, where we all go together to serve the larger surrounding community. This is a feel-good activity that can change lives, and it is what keeps those who come here staying back and staying close.
Sober Living and Integrated Outpatient Programs
Next comes our Solutions program and our Integrated Outpatient Program (IOP). Both of these are also 90 days, and both are recommended. Solutions, our sober living program, comes first. For those who are ready to take more responsibility in their recovery, Solutions offers the perfect place to stretch their legs a bit, while still having the time and "requirement" to focus intensely on the 12-Steps and dive fully into the Jaywalker community that surrounds us. IOP continues the group and individual therapy work that began at The Landing and perseveres throughout their time at Jaywalker. IOP also maintains community togetherness with monthly group outings.
The Time You Need
We believe the length of care can be just as important as the quality of care a man is given as he endeavors to make a lasting go at recovery. Some skills take time to build, and some dragons take longer to slay. At Jaywalker Lodge, we provide the necessary time and rock-solid foundations to overcome the issues that have kept our men from staying sober in the long term.
Building a life of meaning, abundance, and joy through various available therapies and integrated 12-Step principles is what keeps people on the recovery path. It must be a path worth staying on, and any good journey takes time.
If you or someone you know has a history of struggling with sobriety, we know what it's like. At Jaywalker Lodge, we were just like you. We found what works for us, and we believe it can work for you. If nothing else has worked so far, let Jaywalker Lodge show you how we can end the vicious cycle of relapse and help you find the life you deserve. Call us today at (866) 529-9255.