The Circle and the Triangle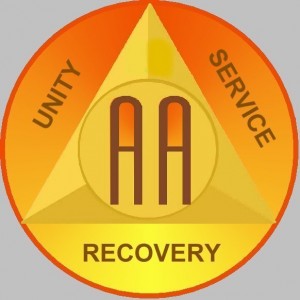 The circle stands for the whole world of AA, and the triangle stands for AA's Three Legacies of Recovery, Unity and Service. Within our wonderful new world, we have found freedom from our fatal obsession. That we have chose this particular symbol is perhaps no accident. The priests and seers of antiquity regarded the circle enclosing the triangle as a means of warding off the spirits of evil, and AA's circle and triangle of Recovery, Unity, and Service has certainly meant all of that to us and much more."
Bill W., Alcoholics Anonymous Comes of Age (p.139)
The Circle and Triangle symbol has long been connected with the AA Fellowship. It was adopted as an official symbol at the International Convention in St. Louis in 1955, and from that point on was widely used in the Fellowship.
In AA, the equilateral triangle represents the three part answer – Unity, Recovery, and Service – to a three part disease – Physical, Mental, and Spiritual, while the circle represents AA as a whole. The body should be triangular, stable, and the mind circular and open. The circle symbolizes serenity and perfection, and the source of unlimited potential. Together they represent perfect union of mind and body.
Although, in the early 1990's AA began to phase out the use of the circle and triangle on all conference approved literature it is still widely regarded as the "unofficial" logo of the fellowship. It is used to identify AA meeting places and used on AA coins to recognize sobriety time.
With Gratitude,
Mark Kloster
Alumni Coordinator