The Benefits of DBT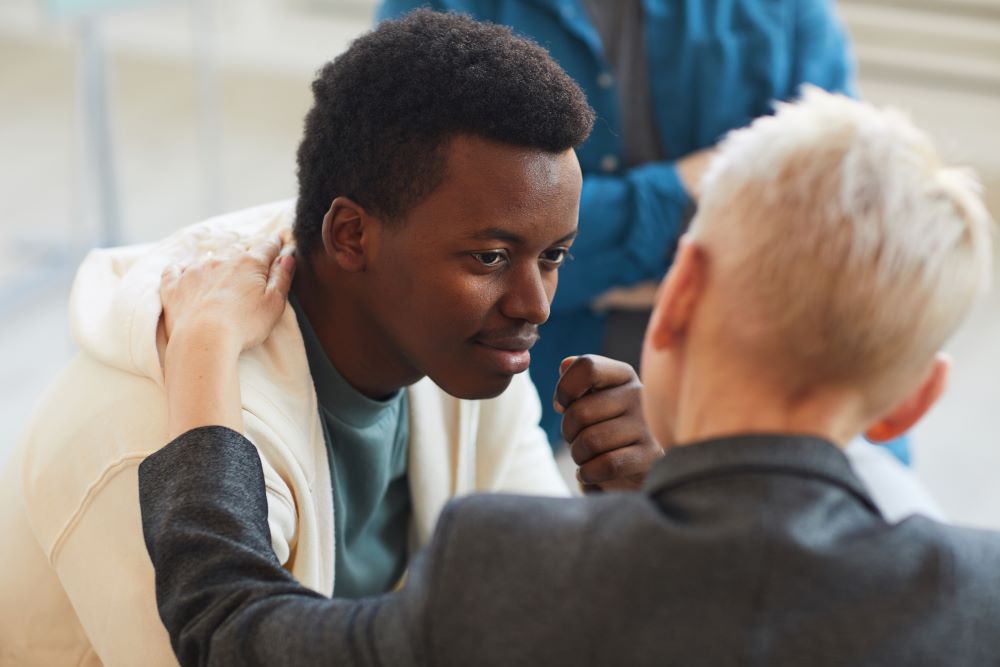 Dialectical-behavioral therapy (DBT) is a type of cognitive-behavioral therapy that enhances more basic forms of cognitive therapy. The main benefits of DBT are learning to live in the moment, building and strengthening relationships, emotional balance, and healthy mechanisms for coping with stressors.
Originally developed for the enhanced treatment of people with borderline personality disorder, DBT has shown remarkable utility in aiding in the treatment of people with chemical dependency, substance abuse, and other self-destructive behaviors. The benefits of DBT alone can help improve and enhance the journey of recovery for many individuals.
DBT at Jaywalker Lodge
At Jaywalker Lodge, we believe in treating the whole person. DBT fits right in with our multi-modal clinical approach and is well-utilized by our multidisciplinary staff. DBT complements our well-rounded and effective daily itinerary as well. We focus on helping chronic relapsers – people who struggle to maintain long-term recovery, despite their deep desire to do so.
We specialize in treating these individuals through a unique blend of methods (the core of which are the 12-Steps), embracing the positive possibilities of life, and participating in exercises that improve mental, spiritual, and physical fitness. DBT is just one of the tools in our tool kit, but it is a helpful and interesting one. We aim to teach all who walk through our doors that a beautiful, happy, and full life is not only within their reach but closer than they may think.
The primary goals of DBT run very much hand-in-hand with many of our main goals as a place for the treatment of alcoholics and addicts, some of whom also have mental health needs. Living in the moment is a major shift for most people struggling to maintain sobriety. DBT helps achieve this shift. There is always remorse for the past and dread or panic for the future.
That is why mindfulness is one of our daily disciplines. Through meditation, physical activity, the 12-Steps, and other spiritually and mentally-centering practices, we aim to achieve a renewed sense of the present in each of our men – keeping them right here, right now, so they can experience the peace and joy of life.
Finding Emotional Balance
Emotional balance is another positive result of DBT. Here we begin to see the positive feedback loop of our Jaywalker philosophy, the 12-Steps, and DBT. Emotional sobriety and rational responses to the stressors of life are fruits of the 12-Steps, as well as lessons we teach here.
Emotional balance is increased by the ability to live in the present, which is practiced in DBT. These combined methods and their benefits continue to build off of each other, increasing efficacy, potency, and reinforcement.
Centering and balancing skills are of major importance to long-term recovery. It is often regret of things past, fear of future unknowns, or the inability to cope with unexpected emotional upsets that jeopardize a sufferer's sobriety. Simply put, such things can cause relapse in those who aren't equipped to manage them and cope in healthy ways.
Turbulent, acute emotions and negative thought patterns are some of the major drivers behind relapse. Alongside our other methods designed to help prevent and stop chronic relapsing, this particular combination with DBT packs a real punch.
Building a Community
Building, strengthening, and improving relationships is one of our main objectives at Jaywalker Lodge. In fact, our alumni community is the pride of our operation. Most who come through our doors remain close by after completing their stay, so thriving is our recovery community. Alumni meetings, hang-outs, activities, and altruistic service events are part of our lives every day.
We simply believe that though sobriety may begin in a hospital, recovery only happens in the community. So we have built the community we wished to be a part of, shared it with the men who come to us, and they have taken it to new heights.
Of course, we couldn't be prouder, but the really important thing here is that each new man we welcome is given access to this thriving brotherhood. He is introduced to it, welcomed in, and accepted. Given the relationship tools within the 12-Steps, our Jaywalker special blend of therapies, and then the focused DBT relationship lessons, insights, and strategies, each Jaywalker man finds himself learning how to create, sustain, repair, and build a literal host of healthy, loving, supportive relationships. His life becomes filled by people, and even more uplifting than that, he finds himself capable of being the man he has always wanted to be.
Developing Healthy Responses
Healthy coping mechanisms, tools, and strategies are often one of the more vexing areas of an alcoholic or addict's internal life. Many find themselves simply unable to summon healthy responses, or unwilling to believe they can even learn how to do so. We know that anyone can learn how to live a joyful, full life, and anyone can learn to become who they've always wanted to be. It can be understandably difficult – especially after years of dealing with events and emotions via substance abuse and other addictive, destructive behaviors – to conceive of someday having healthy responses and practices in place to cope with life.
This is something many of us at Jaywalker Lodge have dealt with firsthand. We have not only years of personal knowledge and experience, but the clinical, spiritual, practical, and therapeutic know-how to teach healthy skills to those who come to us. DBT has a host of useful therapeutic methods and systems for ingraining balanced coping responses. We employ it alongside our vast array of other useful treatments to empower each man with the ability to weather the surprises of life without throwing his own life away.
Find Help Here
At Jaywalker Lodge, we believe in treating the whole person – and we treat them each in ways that are specially designed to be of maximum benefit to them. The chronically relapsing alcoholic or addict of any type who may also experience suicidal ideation, self-harm impulses, major depressive disorder, PTSD, bipolar disorder, eating disorders, or anxiety can especially benefit from Jaywalker's holistic, whole-person healing approach. DBT often plays an important role in this successful treatment.
If you, a loved one, or a client has struggled in the past to achieve long-term sobriety or experiences chronic relapses despite truly wanting to get sober, Jaywalker Lodge can help. Our philosophy of treating the whole person, combined with DBT and other proven methods, may be exactly what you need to finally begin a life in recovery. To learn more about the programs we offer, call us today at (866) 529-9255.