Thank you, Kim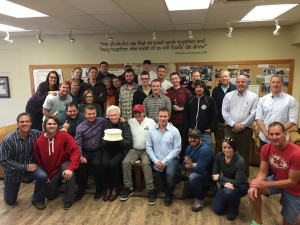 Jaywalker's Senior Lodge Counselor and Family Program Coordinator, Kim Nuzzo, is retiring this week. Kim, you have been there for us all and we couldn't be more grateful. Thank you for everything!
"I guess you could say I was there at the beginning, at least the beginning of Kim's arrival to the Roaring Fork Valley and his subsequent hire at Aspen Counseling Center.   We spent the next 15 or 16 years together at that agency before Kim departed for greener pastures at Jaywalker. I believe I owe it to him that I was hired for the same greener pasture some 6 months later.
It's kind of funny, but Kim is a guy I feel I have always known while actually spending little time with him away from the work environment. One notable exception to this was our fantastic trip to the Blues Awards in Memphis during May of 2012.
I especially remember our many walks in Aspen where we would discuss politics, philosophy, music, kids, professional wrestling, women, the written word and, once in a while, psychotherapy. If you know Kim, you know he is a creative spirit and an individual with a lot of heart.
Kim, the Jaywalker family thanks you for your service. We know this isn't a "goodbye", but a "we'll see you later". Catch you on the back road old friend."
Jeff Kremer
Clinical Director
Jaywalker Lodge