Tee Time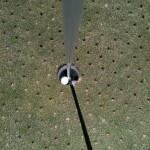 "Golf is the closest game to the game we call life.  You get bad breaks from good shots, you get good breaks from bad shots – but you have to play the ball as it lies." -Bobby Jones
Golf is not only a game that teaches you how to deal with good and bad breaks, it teaches you about respect, integrity, honesty, problem solving, and so much more.  Jaywalker Lodge feels that these and other lessons learned through the game of golf, translate directly into a successful life in recovery.
Respect and Integrity – Golf is a game full of tradition, and much of that tradition revolves around respect for others and your surroundings.  It takes the form of fixing your ball marks and divots, leaving the course in the same or better shape then you found it.  It teaches you to respect others, by not talking during their play or walking in their putting line.
Honesty – Golf asks you to call a penalty on yourself.  It requires that you keep you own score.  These principles and many others translate into every decision and action that we take in our daily lives.
These standards of golf and life, and many others, are why we promote participation in the golf program at Jaywalker Lodge.  Like our other outdoor activities, we believe that the lessons you learn through sport and activities, when applied to your personal and professional life, promote a successful, hardworking, honest, and decent life.
So tee if high, let it fly, and have fun!
Steve Buchanan