Sunday Night Football Returns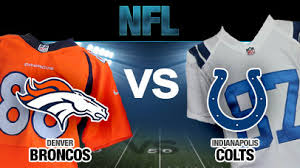 Yes, for better or worse, it's that time year again. I was discussing todays schedule with a fellow Jaywalker Alumnus today which included; goodbyes with visiting parents, dog walk, food, classes at CMC, workout at gym, more food, but most importantly— A fantasy football league draft party. Along with the cooler fall-like weather, the inevitable Fall Fever will soon be afflicting many of us. Although my love for the game has waned significantly in my later years, my enjoyment of the fellowship and fun surrounding the football season is kicking into gear. I find great amusement in the lively banter surrounding the passionate posturing and yes,an occasional, fanatical fan throw down over who has the best quarterback, etc.
We'll kick off another season of NFL Sunday Night Football on September 7 th at 7 PM at the Alumni Clubhouse. Our kickoff event will feature our beloved 2013 AFC Champion Denver Broncos who will be facing the Indianapolis Colts. Join us for Pizza, soft drinks, and fun, as the madness ensues.
With Gratitude,
Mark Kloster
Alumni Coordinator