St. George Alumni Trip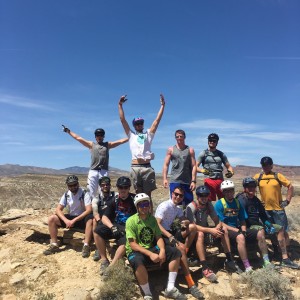 Over the past weekend I was lucky enough to attend the Jaywalker Alumni trip to St George, Utah.  To anyone that has never attended the alumni trips, I would highly recommend it.  Not only was I able to get away from the rain and snow of this Colorado spring, but was able to reconnect with many good friends I have not seen in years after my departure from Carbondale.  I was reminded of the true meaning of friendship and brotherhood in sobriety after seeing everyone again.  There was a good amount of Jaywalkers I had not met before the trip and had an amazing time getting to know them as well!  I moved to Boulder, CO several years ago and had almost forgotten how awesome the group of guys at Jaywalker are, and how amazing Carbondale is.  It is so comforting knowing that we can accomplish anything in the world, yet there is always going to be a safe place for all of us to come back to.
We had 16 people total on the trip, and I think we all had a blast shredding new trails on our bikes, hiking, visiting Zion National Park, and last but not least, sitting at the pool in the beautiful weather.  Zion was like something out of a dream.  I think everyone could agree!  We hiked the Angel's Landing trail and words or pictures cannot do it justice, such an awesome place.
We all were able to go out mountain biking and ride some pretty cool stuff as well.  After the long days out and about we could all agree of grilling and napping at the pool was the only other option for the rest of the day.  After this past Alumni trip I cannot wait for the next one, Lake Powell anyone?
For more pictures of our St. George trip, please click here!
Cheers!
Hayden K.