Sowing the Seeds of Love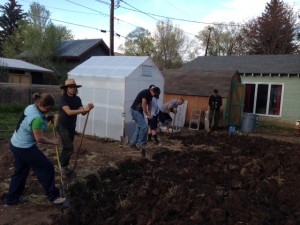 In the garden, more grows than the gardener sows."
Gunilla Norris, from The Mystic Garden
We transform our gardens into sacred space when we understand them as places of growth not only for the plants and trees but for our inner selves. The garden can become a place where we can restore our emotions and spiritual balance and nourish our sense and souls, away from the noise of everyday life.
We had the chance for a little "Nourishment of the Soul" this past Thursday night as five Jaywalker Alumni, myself, a CRMS senior, and members of Carbondale Community United Methodist Church "Double Dug" the Neighbors' Garden. A Double Dig is a very labor intensive process in which the soil is overturned and rotated to increase soil drainage and aeration. This process will hopefully lead to a better producing vegetable garden. The bounty from the Methodist Church's garden will be shared with volunteers, congregation members in need, and the community at large through Lift Up. Lift-up is local non-profit which operates food pantries and the Extended Table Soup Kitchen in the Roaring Fork Valley.
Although the work was hard, the end result will help feed and nourish those in greatest need. Gardening is a great vehicle for spiritual, emotional, and community connection. A Garden can also teach us patience, letting go of control, and losing our expectations of how things will turn out in the end. These lessons are not unlike those we learn on our road to recovery from addiction.
Special thanks to Tears for Fears for the great song I hummed during the double dig and the title I stole for this blog.
With Gratitude,
Mark Kloster
Alumni Coordinator