Something Intangible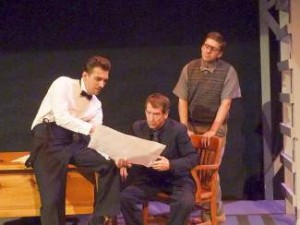 Humming with humor and brimming with humanity, this play reveals the remarkable ways brothers support each other – in spite of it all."
What an apt description of Thunder River Theatre Company's latest production, Something Intangible. I attended the Sunday afternoon matinee of Bruce Graham's light hearted look at the struggle between art and commerce, as played out in the struggle between two combative brothers. Something Intangible, while fictional, is based loosely on Walt Disney and his brother Roy as they struggle to make the film, FANTASIA. The brothers seem to disagree on everything, from creative vision versus practicality to the virtues of a bachelors life compared to a family man. The story also touches on topics such as the intolerance of homosexuality and the mentally challenged, and drug addiction. Lon Winston and the cast and crew have created another winner with Something Intangible. Don't miss the final performances this weekend, Oct 10,11,& 12 at Colorado's "Outstanding Regional Theatre"
Speaking of performances, all the actors in this play were phenomenal but, I have to give a special shout out to Jaywalker Alumnus Zeke E., who was incredible in his debut performance at the Thunder River Theatre. Zeke's character, Leo, was initially the whipping boy of the play but finally gains acceptance and redemption in his touching role. Zeke is no stranger to the creative arts, graduating from NYU's Tisch school of the Arts with a BFA in Film Production. Zeke is currently employed as a script writer and assistant editor for Power Surge Productions which just completed the feature length documentary, Beyond the Walls. This film tells the story of the people behind the murals and wall paintings whose lives have been affected by violence, poverty, or conflict.
Zeke is a graduate of both the Jaywalker Lodge and Solutions programs and is an active volunteer in our Alumni Program. He recently celebrated a year of sobriety and is a positive and engaged member of our recovery community. Walt Disney said " All our dreams can come true, if we have the courage to pursue them." Zeke is a shining example of this mantra and the opportunities a sober life in Recovery can create. He truly is " Living the Dream "
For tickets and more information on Thunder River Theatre Company visit their website.
Please visit Beyond the Walls to learn more about this engaging documentary.
With Gratitude,
Mark Kloster