Solutions Expedition: Pine Ridge, South Dakota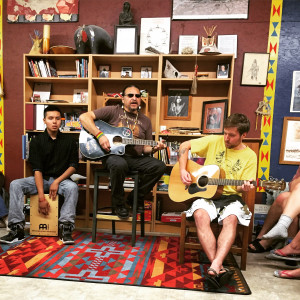 The Solutions expedition to the Pine Ridge Reservation in South Dakota was a complete success! Nico, Wesley, and I, were the staff members for the trip and we had a group of 8 fantastic clients. Each and every client had extremely positive attitudes and participated fully with all of the projects and general work that was done throughout the week. This was my third trip to Pine Ridge (second as a staff member) and this was by far the best group of guys that I have had the opportunity to be a part of. Everyone was very receptive to the entire process of being there, serving, and learning about the culture and history of the natives.
There were two college groups, a group of eighth grade students from Boulder, a group from Americorps, and a few other individuals who were all staying at Re-member with us and working with us for the week. Our guys were very respectable in this group living situation and it appeared that they enjoyed the interaction with the other workers. I witnessed a number of our guys speaking openly about their addiction and recovery experience and this was well received by the other groups who were genuinely interested about what the Jaywalkers had to share.
Throughout the week, we all had the opportunity to work on a number of projects: building porches, skirting trailers, delivering and installing outhouses, and helping plant trees and do other gardening projects. On our last day, our group took us to see Bernie Sanders speak at Pine Ridge High School. This was a nice surprise and was a cool experience for us all to get to be there for that event.
I cannot say enough of how impressed I was with our group during the entire week. We have a solid group of guys in Solutions right now and we should all be very proud of how they represented Jaywalker this past week.
Breton M
Solutions Technician