Sober Trippin' in the Rockies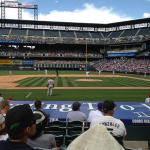 This last week I headed to Denver with a fellow Jaywalker U student for some service work and a mini vacation. Our first day in Denver we had the opportunity to share our stories at the Colorado Association of Addiction Professionals (CAAP) 2013 Annual Conference. This was a really cool experience. I felt honored to be able to speak on behalf of Jaywalker and see what other treatment centers around Colorado are doing.
After our conference it was time to relax and spend the rest of the weekend in Denver, sober! One of my biggest fears when I got sober was going on trips and dealing with the pressures of drugs and alcohol. A big recommendation for me when I got sober was to have an "accountabila-buddy" or a friend where we can help each other remain accountable to our sobriety. It was a great weekend of BBQ's, site seeing, and even a Rockies game. At first, it was a little strange being around people drinking but we were able to enjoy ourselves and not have any cravings.
Overall, it was a great weekend. I got to tell my story and talk about the great things that Jaywalker has done for me and more importantly prove to myself that I can have fun and take trips all while staying sober.
Tom O.
Jaywalker U Student