Sober Superbowl Party XLVIII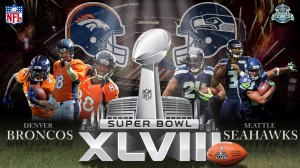 Make plans to join us Sunday for a Recovery oriented Party to watch our own Denver Broncos take on the Seattle Seahawks. The event is open to anyone in the recovery community and there is no charge, but we will gladly accept donations to offset food cost. The usual 6 PM Narcotics Anonymous meeting will be held next door at the Blend coffee shop, Thanks Wade !
What: Sober Superbowl Party featuring Food, Fun, Football, & Fellowship
Where: Jaywalker Alumni Clubhouse (1154 Hwy. 133, next to the Blend)
When: Festivities will start at 3:30 PM (Kick-off is at 4:30 PM) come early while food is Hot !
The food will be catered by White House Pizza featuring Hot Wings, Sandwiches, SpinArt Dip, & Caprese Salad. There will also be soft drinks and a Superbowl cake to enjoy.
John S. has declared himself Ping Pong Champion of the World and is challenging all comers in a Ping Pong Death Match.
So, put on your favorite jersey and come cheer on your favorite team (BRONCOS)
See you Sunday.
With Gratitude
Mark Kloster