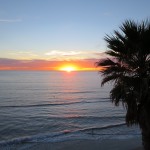 Last week the Jaywalker U students got a well deserved break from their busy school schedules and headed down to sunny San Diego for our Sober Spring Break. It was a great opportunity to relax and have some fun. We loaded up the van and headed out at 1:30 Sunday morning for the 16-hour drive.  The drive was long but the promise of watching the sunset over the ocean kept us going. On arrival we found ourselves in a gorgeous house overlooking the beach. Our days were filled with surfing, fishing, fellowship, and checking out all that San Diego had to offer.
One of the great things about this trip was that we got to experience how much fun sobriety can be, from spending a day at the San Diego Zoo to just hanging out on the beach with good friends. Not only was it great to spend time with each other but we also got to experience the local AA community. This shows me that anywhere we go we have a support group and community that feels the same as Carbondale, it's a home away from home.
For more images of our trip please click on the picture above!
Nico W.
Residential Assistant
Jaywalker U