It's SNOW time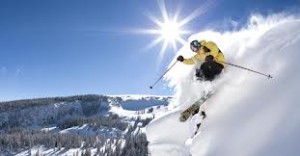 When it's time to play, the Rocky Mountains teach us the value of "serious fun" and what it really means to "live in the moment."
Jaywalkers proximity to some of the worlds greatest skiing and snowboarding is one of the primary reasons I chose to undertake treatment in the Roaring Fork Valley. I may have came for the skiing, but I stayed for the incredible Recovery experience and community that Jaywalker provides. The Mountain based expeditions are an integral component in all of Jaywalker's programs and during the winter months we strap on the snowboards and Skis and head to Aspen-Snowmass to shred the mountain. Our clients are challenged to improve not only mentally and spiritually but, physically, as well. This year we have had abundant early snowfall and Aspen Mountain will open early this weekend and Snowmass will open daily beginning November 23rd. Below I have listed the on-mountain opportunities for each of the prospective programs.
Jaywalker Lodge
Clients will ski/snowboard every Monday through the season with expedition staff
Sunday is an optional ski day with Alumni volunteers driving and skiing with clients.
Thursday afternoons clients will snowshoe or Nordic Ski.
Jaywalker Solutions
Clients will ski/snowboard with staff on Fridays.
Clients will have optional ski days on Saturdays and Sundays and occasionally during week as schedule permits.
Jaywalker "U"
Clients will enjoy a ski day with staff on Fridays.
Clients will have optional ski days on the weekends and as schedule permits.
Jaywalker MIOP
The MIOP clients are on their own to ski as it fits into their respective schedules.
Discount Lift passes are available to current MIOP clients.
Jaywalker Alumni
Approved Jaywalker Volunteers will have the opportunity to volunteer to drive and ski with clients on optional ski days.
In addition, approved volunteers will have opportunity to ski on scheduled days at request of staff.
We are also planning for an opportunity for Alumni to ski together on select Saturdays during the season.
It's been snowing in Aspen all day! Here's to long, deep, and fun ski season.
With Gratitude,
Mark Kloster
Alumni Coordinator