Shredding Sobriety, Mink hucks 4 big ones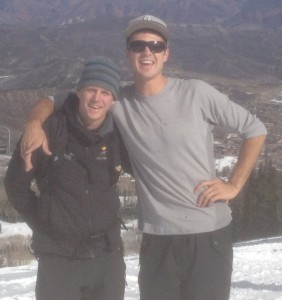 In 2010, I came back to Jaywalker Lodge to be a counselor intern during my last semester in Graduate School. When I got back all of my friends were talking about this guy who had gone through Jaywalker Lodge while I was away. His name was Adam Mink. Apparently, he was a great guy, good for our community, and just happened to shred on skis and killed it on a mountain bike. I asked if he was alcoholic. They said, oh yeah, he's that too.
During that fall Adam and I were introduced and I liked him right away. I saw a young man who was really engaged in life and engaged with his friends. He was walking the program and seemed totally authentic. We would see each other at Dos Gringos getting coffee and run into each other in meetings or in town. Every time I saw him he was smiling and contented looking and I always thought, "he's got something that others want." That is until I saw him try to clear a cliff band while we were skiing one day at Snowmass and he clipped a tree sending him 30 feet to his back. That, I thought, is something he needs to work on.
In 2012, I was asked to direct The Landing Program. I was also asked to hire staff. I needed a guy living a great recovery program, who was excited about the action aspect of Jaywalker Lodge, and who was available. The only answer was Adam Mink. One problem: Mink had just been offered full time year round work at Snowmass. People said he wouldn't do it. I was told don't even call. I called and we met at Dos Gringos to talk about it. God works in mysterious ways and Adam said yes to the position I was offering. I knew that the client experience at The Landing Program had just caught the break it was looking for.
Adam came on board and immediately had an impact. His client centered approach is always evident and he brings an infectious enthusiasm to his work. When he started he was our activity guy and Adam came ready with fly rods, cross country skis, cat tracks, and bikes everyday. After 4 months Adam was promoted and now works days with me. He is an incredible role model for the men that we have admitting to our facility. He knows when to be direct and knows when to listen. I am humbled by the maturity and integrity that he shows everyday. He'll tell you it comes from working the 12 steps and living the 12 steps. I couldn't agree more.
Adam Mink is the younger brother that I never had. I am proud to call him my friend. This past Wednesday he celebrated 4 years of continuous recovery as a result of working the 12 steps of Alcoholics Anonymous and for that I am truly grateful.
Brendon Kerton
Landing – Program Supervisor