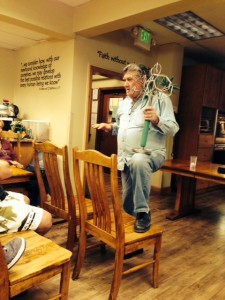 It is my wish that Carbondale will grow to appreciate the significant meaning of the symbolism represented in this sculpture. It is from the heart of my family that we do our part in this gift to the town of Carbondale."
Internationally renowned sculpture artist, James Surls
The Jaywalker men and staff were treated to a visit and presentation by famous Carbondale Sculptor, James Surls this week as he discussed his latest creation that will be the centerpiece of the new Carbondale traffic Roundabout. The bronze and stainless steel sculpture will be over 25 feet tall and will feature numerous symbolic elements. They include the Jewel, the flower, and the tree with eyes. These elements will emanate from a standing vase which is representative of the sacred feminine. The metaphoric vessel will give forth the thread of life, which " threads the eye " of three needles which represent key elements of human nature; Art, Science, and Philosophy. Hence the title of the sculpture, "Sewing the Future".
Mr. Surls, engaged and fascinated his audience with his blending of Art, physics, philosophy, and personal experience. James spoke of the value and meaning of art and it's ability to elevate a community. He stated that we can all be artists and create, we just need to develop a starting point and then follow the indicated path, wherever it leads. He shared some parting words of wisdom which truly resonated with me. " Visualize the future and life you want and take action with honor, reverence, and gratitude. Fill your life with really good stuff"
Jaywalker has made a commitment to help educate, inform, and inspire our community to embrace this wonderful, perpetual gift that Carbondale will receive this coming October. Our Founder, Bobby Ferguson has made a generous financial contribution to the project and I will be coordinating volunteers from our clients, Alumni, and staff to help with manpower, fundraising, and advocating for this collaborative community project.
With Gratitude,
Mark Kloster
Alumni Coordinator