Serenity Scramble Video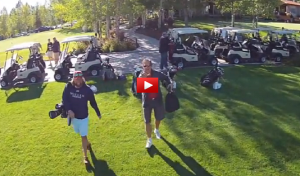 This year's Jaywalker Serenity Scramble was the best yet! Over 100 golfers came out to support this year's tournament and help raise a record breaking $20,000 for two local non-profit organizations; A Way out and Valley Partnership for Drug Prevention.
Valley Partnership for Drug Prevention is an organization that promotes the prevention of alcohol, tobacco, and illegal drug use in youth by providing resources, education, and leadership to schools, family, and community.
A Way Out is a non-profit organization based in the Western Slope of Colorado that provides counseling referrals, solution oriented programs, and financial aid to motivated alcoholics, addicts and their families. A Way Out's focus is to support primarily those in the Roaring Fork Valley who are unable to secure an appropriate level of care to overcome their addiction(s).
This year's Serenity Scramble was shot from above…Meaning an aerial drone flew over our heads as we participated in the 7th Annual Jaywalker Serenity Scramble. For 7 years Jaywalker has had the opportunity to host an amazing tournament for an amazing cause and for 7 years our participants outdid themselves. Thank you to all the donors, volunteers, and participants for making this the most successful Serenity Scramble! Let's do it again next year!
For video of the 7th Annual Jaywalker Serenity Scramble click here!
Donnie Hagenbart
Program Coordinator
Jaywalker U