The Sculpture has Landed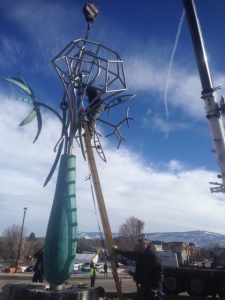 James Surls gave a loud "hoot" and tossed his cap into the air as the anxious crowd applauded the touchdown of the 20 foot sculpture onto the marble base where it will reside. There were dozens of onlookers, including those who have been working on Carbondale's new traffic roundabout.
The labor for bronze and steel sculpture "Sewing the Future" was donated by world renowned artist James Surls because of his love for Carbondale. Although, a Texas transplant, James raised his seven daughters in the Roaring Fork Valley and says he doesn't plan on leaving anytime soon. The $200,000 in funds needed for the materials, casting, and fabrication were raised through a community outreach effort which included the assistance of several of the Jaywalker men. We assisted in raising awareness at several public events through selling T-shirts and supplying information about the design elements of the sculpture.
A plethora of outdoor art is just one of the many incredible assets enjoyed by our Carbondale community. This sculpture, in my opinion, is the crown jewel and will be a community centerpiece for decades to come. It was a wonderful experience for our volunteers and myself as we became a part of the history of our beautiful mountain town.
With Gratitude,
Mark Kloster
Alumni Coordinator