Saturday of Service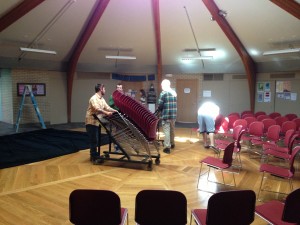 The best way to find yourself is to lose yourself in the service of others."
There were multiple opportunities for Jaywalkers to be of service in our community today. Pictured right are men from the Jaywalker "U" setting up chairs and portable flooring for the 3rd annual SWAN (support women artists now) performance. SWAN celebrates women artists in dance, choreography, and artistic expression. Tonights 7 PM performance at the Third Street center will feature classical ballet, contemporary ballet, and African dance.
A group of Alumni and MIOP clients spent several hours constructing a stage and preparing for the Fiesta de Tamales which kicks off with Salsa lessons at 4:30 this afternoon followed by homemade tamales and pupusas at the Basalt middle school. Following the fiesta guests will be entertained by Mexican folk singers and Aspen Santa Fe Ballet Folklorico. Tonights fundraiser will support English in Action, whose programs help immigrant adults living in our valley gain the English language and leadership skills they need to participate fully – as parents,as workers, and as members of the community.
Service is an indispensable part of the Jaywalker model of Recovery and we showed up in force today to engage in our community and in life.
With Gratitude,
Mark Kloster
Alumni Coordinator