Reunited with the Jaywalker Family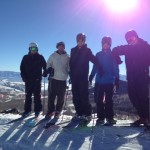 Up until three months ago my life had become overtaken once again by the beast of addiction. I had become a cripple on a couch. Another job lost and a lot of strained relationships. I was fearful to do anything except get to a liquor store. I had been beaten once again into submission. I knew I couldn't make it any longer the way I was going.

Scared as hell, I jumped in the car and drove, obliterated, to CeDAR in Denver, CO. Still without surrender, and with a lot of drama with police and staff, I was accepted on a ten-day-evaluation. Still no true change of heart, I felt relief. I was going to get the help I needed. It took almost a week to get over feeling sorry for myself, and some convincing not to just walk out. I ended up staying, and after a few days experienced a change of heart. I engaged and worked hard. I was even awarded a scholarship to stay for a full thirty days. Still with no plan, I wondered and prayed what I would do with my life after CeDAR. One day at lunch I ran into John Schneier, an old buddy from when I went through Jaywalker Lodge three years ago. After making fun of each other like old friends do we had a serious talk about me coming back to the Valley. The more I thought and prayed, this idea made a lot of sense. My counselor and family approved. I packed up my apartment, rented a U-Haul, and headed back to Carbondale.

From the second I arrived I felt like I was reunited with family. I began to experience some amazing things. Some of my closest brothers have had birthdays celebrating multiple years of sobriety. Congratulations Brendon, John, Donnie, and Adam. Extremely encouraging for a guy who today celebrates three months. I have also been given an opportunity to help Mark Kloster, coordinating events and contacting alumni with follow-up calls, along with getting to know the community better. Just being around the Lodge, kicking it with Chef Brian, and bouncing things of Dan and Lois and the people at Jaywalker Lodge have all been sources of strength for me in my recovery. For the first time in a long time I truly feel like God has me in the right place.

This past weekend I got to go on an alumni trip to Park City, UT to ski and witness the Sundance Film Festival. A big thank you to Dan W and his family for providing us with a place to stay. We had a blast! From the car ride to the hotel, from the dinners to the slopes, we had a ton of laughs. Even though there wasn't much new snow, the two days we skied were some of the best days on a mountain I ever had. Hiking the steeps up top, cruising the groomers, and just messing around in the parks was serious fun. Video soon to come! I went with three brothers and two acquaintances, and returned with six brothers, a pretty solid wolf pack. Evan and Phil you guys are awesome. I once again have a solid group of guys to fellowship with, lean on, and who are more than happy to keep me in check when I get stupid. In a short thirty days I have been brought up from the depths of despair and given a chance to do something great with my life. I can't wait to see what the next thirty hold in store.
Billy B
Recovering Alcoholic