"Remember Me, Hamlet"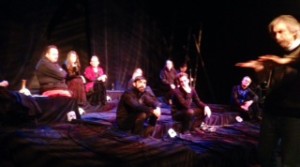 Hamlet Director and Thunder River Theatre Company's founder and artistic director, Lon Winston answers questions regarding our matinee performance.
"Remember me, Hamlet" was a quote from the Ghost of King Hamlet played by Jaywalkers own poet laureate and former counselor emeritus Kim Nuzzo. Perhaps the only thing I remembered from Hamlet was "to be or not to be," a skull, and sword fight – not too surprising ! Much to my delight, and thanks to an amazing production and spectacular acting I found a renewed appreciation for arguably, Shakespeare's most famous and powerful tragedy. I had a new perspective and understanding of the difficulty of taking action, ambition, and appearances. All of the actors wore masks to represent the duality of the characters and their motivations. I can certainly relate to the wearing of facades during my addictions. I was too busy trying to be the person who I thought others wanted me to be- never my authentic self. To me, the basis of the amazing play is the difficulty of living in a world of appearances, never knowing others truth, motivation, or feelings. I am resigned to the fact that in Recovery the only truth I need to know is – my own.
I want to extend my sincere thanks to Lon, Kim, and Bobby Ferguson for giving myself, several members of the Jaywalker staff, clients, and Alumni the opportunity to revisit Hamlet with a new perspective.
Besides Kim Nuzzo's debut at TRTC, Jaywalkers own famous Film Director, Marty M. assisted with set design and construction.
Thunder River Theatre Company is celebrating its 20th season performing in the Roaring Fork Valley. The professional company earned statewide recognition as the Best Regional Theatre in Colorado in 2012. Just one more reason I am thrilled to call Carbondale home.
With Gratitude,
Mark Kloster
Alumni Coordinator