Reflection from Pine Ridge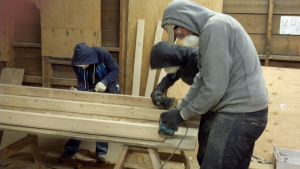 Solutions service trip to Pine Ridge Indian Reservation was a very eye opening experience. Prior to going, I had been told of the ongoing issues faced by the local residents – poverty, unemployment, alcoholism, drug addiction, domestic violence and suicide. However, it wasn't until I spent time on the reservation that I really began to understand how rampant these issues are for the local tribe members. The poverty that exists on the reservation reminded me of third world countries. Many of the homes we visited were overcrowded with 3-4 generations of family members under one roof, and many didn't have electricity, water or sewers – simple things that I take for granted on a daily basis.
During my time on the reservation, I was actively involved in numerous activities to support the local community. Service work included helping to build a local garden, constructing and delivering bunk-beds to local children, and working on various projects to improve local resident's mobile homes. We were also given the opportunity to hear from several local tribe members about the culture, education, and traditions of the tribe. Through these speakers I gained an insight into the struggles, both past and present, which these residents deal with on a daily basis, and I will be forever grateful to them for sharing their passion and insight into this forgotten pocket of America.
Beyond simply having a profound appreciation for the daily struggles of the local residents, I also walked away with a greater sense of humility and appreciation for all the little things in my life that I tend to take for granted. Upon leaving I was again reminded to be humble in my daily endeavors, to always remain thankful for the gifts God has given me, and to remember that a big part of my successful recovery is for me to give back to those who are less fortunate.
Thanks to the residents of Pine Ridge for opening your homes and your hearts to us.
T.J.
Solutions Client