Down the Rabbit Hole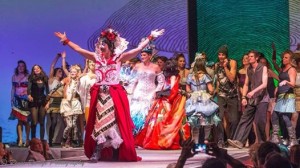 That collaborative spirit between the Arts and the community members is a wonderful manifestation of what CCAH is all about: Building Community through Art."
The Carbondale Council on Arts and Humanities presented the 6th annual Green is the New Black Fashion Extravaganza Friday and Saturday to sold out, standing-room only crowds. This years show took the audience on a trip down Alice in Wonderland's Rabbit Hole. It was so much more than a fashion show featuring sustainable and 'Green' designs. It was an assault on the senses; music, film, animation, live dance, poetry, and outrageous textile design.
Several Jaywalker Alumni and Clients volunteered to help set up the show on thursday and friday. In exchange for our volunteer service we were offered a ticket for the show Friday night. I had been the last couple of years and knew how wonderful the production would be. Some of the Jaywalker guys weren't convinced that it would be something they would enjoy, outside of the possibility of seeing some gorgeous models. As it turns out, I took a crew to the show and everyone was blown away. They were all asking how they could participate next year, maybe we'll have some models, music, or designs on stage next year.
The funds raised from the show helps CCAH provide free after school art classes, youth scholarships, and bilingual piano classes. the funds also support professional development for Carbondale middle school art teachers and the theatre arts program.
With Gratitude,
Mark Kloster
Alumni Coordinator