Purple Star Veterans and Families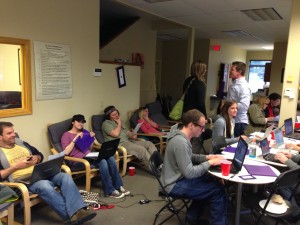 For those who serve, the struggle does not always end when they return to American soil.
A U.S. military veteran commits suicide every every 65 minutes!
More active duty soldiers die from suicide than combat. Last year a record-setting 349 members of the armed forces took their own lives. Purple Star Veterans and Families is dedicated to strengthening the homecoming safety net for Veterans and their immediate and extended families and for the families of Veterans who are not surviving homecoming due to suicide, accidents, drugs and alcohol. The vision of Purple Star is to effect a national policy change at a military and governmental level to dramatically improve the way we prepare military personnel for separation from service back to family, education, employment, and community. Jaywalker alumnus, Adam McCabe, is a director and spokesperson for the organization, which is instrumental in delivering a unified message and strategy to decision-makers at a community and national level. I was honored and privileged to be part of a group of 20 plus volunteers who came together at the Jaywalker Alumni space tuesday night to assist in inputing petition signers information into the Purple Star online petition. The goal of this petition is to create awareness around a new solution by implementing comprehensive homecoming preparedness and decompression training for all separating military personnel, and provide homecoming resources to better prepare families for welcoming their veterans home. The volunteer team consisted of a diverse group, including several Jaywalker alumni, Rotary club members, and concerned citizens. Being of service in recovery takes on many forms, from working with another addict to being part of a national campaign to help veterans. Please visit purpleplestarfamilies.org to sign petition.
With Gratitude,
Mark Kloster
Alumni coordinator