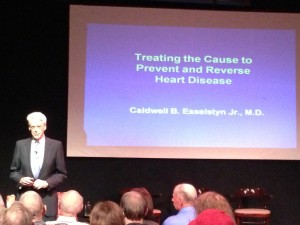 Heart Disease remains the leading cause of death in the United States for men and women. Cardiovascular disease threatens 1 of 2 Americans and is predicted to become the number one global disease burden."
Being a 20 plus year vegetarian and an aspiring Vegan I was beyond excited to attend last Friday nights Roaring Fork Cultural Event featuring renowned Cleveland Clinic surgeon and researcher Dr. Caldwell Esselstyn. As one of the leading proponents in the field of "plant-based diets", Dr Esselstyn presented a program titled "Treating the Cause to Prevent and Reverse Heart Disease." Dr Esselstyn convincingly argued that a plant-based, low-fat diet can not only prevent and stop the progression of heart disease, but can also reverse its effects. Dr. Esselstyn proposes that conventional cardiology has failed patients by developing treatments that focus only on the symptoms of heart disease, not the cause. Now thats a novel idea, treating the root causes of a disease rather than just the symptoms…Addiction anyone ?
Based on the his 20 year nutritional study Dr Esselstyn explains with irrefutable scientific evidence, that we can end the heart disease epidemic in this country forever by changing what we eat. Along with his colleague T. Colin Campbell, nutritional scientist and author of The China Study, Dr. Esselstyn stars in the award winning 2011 documentary Forks Over Knives. The theme of the film looks at the idea of "Food as Medicine" and reaches the profound conclusion that other degenerative diseases; Type 2 Diabetes, high blood pressure, stroke, and even several forms of cancer can almost always be prevented and in many cases be reversed by rejecting a menu of animal-based and processed foods.
It was a pleasure to sit with a group including Jaywalker staff and clients. One of our clients had told me before the presentation that he was a little skeptical about the whole vegan thing. "Where would I get my Protein ?" he exclaimed. "I don't think I could ever give up meat…fish too? Our client was shocked to hear that up to 80% of young men between the ages or 18 and 34 exhibit signs of coronary artery disease. Although I'm quite certain we don't have a convert to the "Plant-Strong" way of eating, I do believe that he left more educated and will be more deliberate in his eating choices in the future. I, for one, will begin my lobbying campaign for Jaywalker to partake in the "Meatless Mondays" program and continue to advocate for a humane, healthy, and potentially lifesaving whole-foods, plant-based diet.
Please click on the following links for more information:
Dr. Caldwell Esselstyn, Prevent and Reverse Heart Disease
The Documentary, Forks over Knives
The NYT best-seller, The Engine 2 Diet by Rip Esselstyn
Meatless Mondays Campaign
With Gratitude,
Mark Kloster