Presenting Mr. and Mrs. Phil Clifton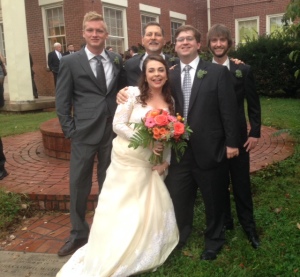 Love never gives up,never loses faith, is always hopeful and endures in every circumstance."
1 Corinthians 13:7
Life in Recovery presents us with many opportunities to show up and be present for those we love. Myself and Jaywalker Alumni Tom E. and Ben PG had the honor and pleasure of attending the wedding of Jaywalker Alumni and former employee Phil Clifton this month in Nashville ,Tennessee. This was my first opportunity to serve as a groomsman in sobriety and I had one of the most enjoyable experiences in recent memory. Our Carbondale contingent was met with open arms and incredible southern hospitality. We enjoyed a weekend of fun, festivities, and fellowship and too much food.
I had the opportunity to get sober with, live with, and work with "PhilBilly", as I affectionally referred to Phil for over three years while he was here in Carbondale. He returned home to Nashville last summer and reunited with his High school sweetheart Laura Faison. Phil is back in college and finishing his degree. He has the opportunity to work at Barnes and Noble and the Tennessee State Capitol which happen to be two of Phil's greatest passions; books and politics. Phil's lovely bride, Laura is a incredible young lady who recently graduated college and is in her first year of teaching school.
I am grateful beyond measure for the opportunity to experience life and share in all it has to offer. The opportunity to share in the sacred union of Phil and Laura surrounded by new and old friends is certainly one of the highlights in my continuing recovery journey.
To Phil and Laura : We all wish you a lifetime of happiness, joy, and lots of memories. Congratulations on your wedding!
With Gratitude,
Mark Kloster
Alumni Coordinator