"Planting Seeds" for Recovery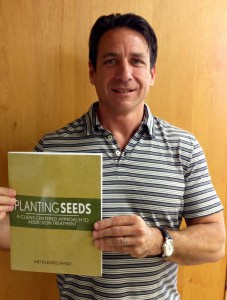 Arts' hopes and dreams from his personal recovery were instrumental in his writing of Planting Seeds
Art Kleinschmidt has been Planting the Seeds of Recovery for more than eight years while working with both adolescents and adults in the treatment and recovery field. The Jaywalker family has been a direct beneficiary of Art's talents and dedication for the past several years. Art has not only planted the seeds, but has nurtured the growth and development of many Jaywalker men; from fledgeling, fragile seedling to mature, blooming community members who are thriving in a life of Recovery.
Art's latest project, Planting Seeds, will allow his extensive experience and insight, combined with a fresh and innovative approach to treatment to be shared with a larger audience. Art's newly completed book; Planting Seeds, A Client-Centered Approach To Addiction Treatment is a two part publication containing a manual for counselors and an accompanying workbook for clients. " Planting Seeds is coherently grounded in a peer-related program that offers leadership through empathy, insightfulness, and peer support. Art effectively moves the treatment of addiction out of the Dark Ages and into the 21st Century". Art's curriculum has been enthusiastically endorsed by Jaywalker Lodge and its senior staff.
Art Kleinschmidt, CACII is a program counselor at Jaywalker Lodge in Carbondale, Colorado. Art has a Masters Degree in Addiction Counseling from Hazelden, a MBA from Southern Louisiana University, and is currently working on his PhD in Psychology.
With Gratitude,
Mark Kloster
Alumni Coordinator