One Mile at a Time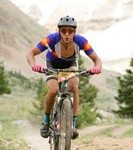 Nine months ago if you had told me that I'd ride in a 50 mile mountain bike race, I'd have told you that you were crazy.  Since the 4th of July, I've competed in two 50 mile races.  My older peers from Jaywalker have told me that mountain biking saves lives, and though I'm quite sure that it's not mountain biking but the program of AA which has saved my life, mountain biking has certainly become a huge part of my life.
The AA saying, "One day at a time," comes to mind when I think about my mountain biking.  What started out as me pushing my bike most of the way up Mushroom Rock every day in Jaywalker last October has turned into the opportunity to compete in the Leadville Trail 100 MTB Race, a distinguished 100 mile mountain bike race that I will be racing in on August 10th.
Leadville is the 2nd highest sanctioned town in the United States with an elevation of 10,200 feet above sea level.  The Leadville Trail 100 reaches altitudes of 12,500 feet, and riders climb about 12,000 feet over the course of 100 miles.  Not only am I amazed that in just 9 months I have become healthy and physically fit enough to compete in such a demanding race, but what makes this whole thing really exciting is that I'm going to be competing with two other Jaywalker alumni!  The saying goes, "This is a we program."  And just like it has taken the support of other men in AA/NA for me to make it to this point in my recovery, without the encouragement of my other sober friends who enjoy mountain biking, I would never have made it to this point in mountain bike racing.
Stephen S.
Jaywalker Alumni