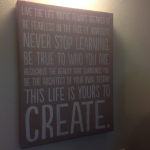 It was a Christian home, marked by crucifixes on the walls, an open bible on the coffee table. Ms. Nita prepared for us the best gumbo we had ever tasted, deep and rich, the product of generations. It was her thank you to the volunteers who had come to share this long awaited day, her day of homecoming. She had been waiting 9 years. She shared with us a simple and familiar message. "Keep Coming Back", for there are many still waiting, waiting for their turn to make the gumbo of gratitude.
Upon a hallway wall hung a simple plaque, with words of wisdom, with words of recovery, for all to take heed. After all, we are all in recovery from something. It is where our humanity resides.
"LIVE THE LIFE YOU'VE ALWAYS DREAMED OF
BE FEARLESS IN THE FACE OF ADVERSITY
NEVER STOP LEARNING
BE TRUE TO WHO YOU ARE
RECOGNIZE THE BEAUTY THAT SURROUNDS YOU
BE THE ARCHITECT OF YOUR OWN DESTINY
THIS LIFE IS YOURS TO CREATE."
Amen
We of Solutions have been to NOLA on a number of occasions. We "Keep Going Back" because of people like Ms. Nita. We have encountered many, and the gumbo of life they share with us, it's the best we've ever had.
Dan Reed
Program Director
Jaywalker Solutions