New CMC President to Speak in Carbondale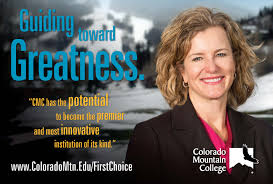 Colorado Mountain College offers students a choice- really THE choice- to live, work, take classes, earn degrees, receive training and contribute to the economies of our mountain communities."
Dr. Carrie Besnette Hauser, President CMC
Colorado Mountain Colleges 9th and newest president will be the featured speaker Monday, March 10th at 7 PM at Thunder River Theatre in downtown Carbondale. Dr Hauser will share her plans to lead CMC "toward becoming the most inclusive, innovative, student -centered college in the country" at the Roaring Fork Cultural Councils inaugural 2014 event.
Hauser's career has included leadership and management roles in higher education institutions, private foundations, and the public policy arena. Prior to Colorado Mountain College, Hauser served as a senior fellow for the Ewing Marion Kauffman Foundation and as president and CEO of Kauffman Scholars, Inc. Before joining Kauffman, Hauser was vice president for advancement and external relations at Metropolitan State University of Denver and executive director of its foundation. Her background also includes teaching assignments at UCLA, University of Denver, and Colorado State University.
Dr. Hauser is an avid outdoorsman and athlete. She has summited Mt Kilimanjaro and has climbed to the Mt. Everest base camp. She and her husband ,Jeff, enjoy skiing, backpacking, biking and exploring the Rocky Mountains and remote places around the world.
The Jaywalker 'U', collegiate recovery program enjoys a great partnership with CMC and looks forward to working with the new president as she continues CMC's journey to become "the premier and most innovative institution of its kind in the country."
We have a limited number of free tickets to this exciting event available for sign-up on the Lodge bulletin board. These first come-first serve tickets are available to all Jaywalker clients, staff, and Alumni. Additional tickets are available at thunderrivertheatre.com.
With Gratitude,
Mark Kloster
Alumni Coordinator