National Recovery Month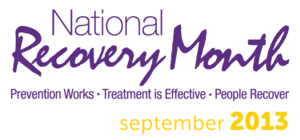 National Recovery Month is a national observance that educates Americans on the fact that addiction treatment and mental health services can enable those with a mental and/or substance use disorder to live a healthy and rewarding life. The observance's main focus is to celebrate the gains made by those in recovery from these conditions, just as we would those who are managing other health conditions such as hypertension, diabetes, asthma, and heart disease. Recovery Month spreads the positive message that behavioral health is essential to overall health, prevention works, treatment is effective, and people can and do recover.
Mental and Substance Use Disorders : Fast Facts

In 2011, 45.6 million U.S. Adults aged 18 or older had a mental illness in the past year.
In the United States, a person dies from suicide every 15 minutes.
In 2011, 20.6 million people aged 12 or older were classified with substance dependance or abuse in the past year.
Substance Abuse costs the country an estimated $ 510 billion annually.
Research shows that for every $ 1.00 invested in prevention and early treatment programs, $2.00 to $10.00 could be saved in health costs, criminal justice costs,educational costs, and lost productivity.
Scientific evidence shows that treatment can help patients addicted to drugs stop using,avoid relapse, and successfully recover their lives.
The above facts illustrate that mental and substance use disorders can exact a huge toll on our society, but there is hope. Effective Prevention, Education, and expanded Recovery Services not only save resources, but more importantly, save lives. The 2013 Recovery Month observance emphasizes the main ways that people can prevent behavioral health issues, seek treatment, and sustain long – term Recovery as part of a commitment to living a mentally, physically, emotionally, and spiritually healthy life.
Please visit the National Recovery Month website to learn more.
With Gratitude,
Mark Kloster
Alumni Coordinator