Motivational Interview Training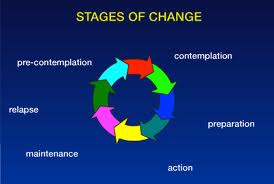 The stages of change are a model of 'how to think' rather than 'how to do'…they describe attitudes, intentions and behaviors related to tasks of change".
Change is hard. It can seem impossible and certainly evokes fear and anxiety. As in any aspect of life, of living, changing the way in which we do things takes a process. Not unlike the 12 steps of recovery there are steps every alcoholic/addict must take in order to make lasting, sometimes lifesaving changes. I have often heard in the rooms that you only have to change one thing to achieve long-term sobriety – everything ! The idea of never drinking or using again is a daunting proposal and without help and guidance from others, especially those who have the experience of Recovery, is often incomprehensible.
The Jaywalker residential and Landing tech staff and myself received some valuable training and insight from a couple of our clinical professionals on Motivational Interviewing and the Stages of Change process. Janet DeMars, Director of Jaywalker U and Brendon Kerton, Landing Program Supervisor taught us ways to more effectively deal with clients in the different stages of change. We learned practical tools to be with our men as they seek positive change. All of this is voluntary rather coerced change. We learned how to ask open ended questions and to listen reflectively with empathy. Thanks to Brendon and Janet for providing us the opportunity and tools to become better partners in our Recovery journey.
With Gratitude,
Mark Kloster
Alumni Coordinator