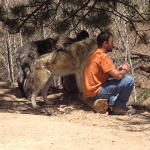 Ever stare into the eyes of a 120 lb. artic wolf, standing two inches from your face?  Ever climb a 650 ft. sand dune, urged on by your friends to keep going… when your legs are on fire?
Our Solutions men experienced all this and more during our recent visit to the Mission Wolf sanctuary near Westcliffe, CO.  In return, we were able to provide service to the sanctuary by chopping firewood and constructing a fire bunker for the wolves to find shelter in case of a forest fire.
Addiction shrinks the world of the addict to little more than a cell block cycle of self-centeredness and self-destruction. Our mission at Solutions is to blow down the walls of this crushing disease and give our clients a taste of possibilities. Those wolves have something to teach us.  When you hear 38 wolves howling in unison in the dark of a starlit night, you know without question that you are fully alive.  It's the magic of renewal.  It's Jaywalker.
Dan Reed
Program Director
Jaywalker Solutions