Mike's 'Going Away' Party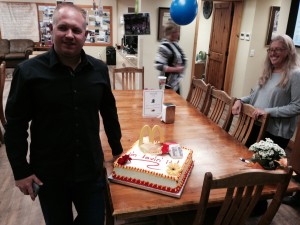 Say Farewell but never Goodbye "
Michael Moreland
Personally, I'm not a big fan of going away parties but today was an exception. The Jaywalker staff came together to share food, fun, and memories with Mike Moreland, Jaywalker Lodge Residential Manager, and a fond farewell as he embarks on a new life journey. We enjoyed great food from Smoke BBQ , Chef Brian's famous fixin's, and the incredible McDonald's hamburger and fries- carrot cake by baker extraordinaire, Rocky. ( Really…not a typo). Mike and his beautiful family are heading back to Illinois to begin a career in the family fast food dynasty.
Mike has been a Jaywalker mainstay for the last five years. The first year as a client and alumni leader and then as an invaluable employee for the last 4 years. He began as a residential tech, became the Solutions coordinator,a counselor in the IOP program, and is departing as the Lodge residential manager. His influence and impact will be felt in the Jaywalker Family for many years to come. Not unlike his Recovery, he took his job very seriously and sought to make our programs and ultimately our client care the best in the industry. His dedication and commitment to all things Jaywalker will be truly missed.
On a more personal note, I will miss a treatment littermate, roommate, Recovery warrior, and most importantly someone I am privileged and honored to call a true friend. I stand in awe and admiration of the incredible journey I have shared with Mike these last five years. He is a shining example of the promises coming to fruition in a life in Recovery. Mike is a recovered addict, a loving husband and father, an ideal employee and co-worker, and a respected and loved member of our community. Mike has worked hard to become the man he wants to be, and has been an example to us all of how to find joy, abundance and meaning in life.
I know I am a better person for having Mike in my life and I believe that Jaywalker has surely benefited and thrived because of his commitment to excellence and his desire to truly be of service. We wish Mike and his family all the continued happiness and success they absolutely deserve.
" Don't cry because it's over. Smile because it happened!" Dr. Seuss
With Love and Gratitude,
Mark Kloster
Alumni Coordinator