Memorial Day Gratitude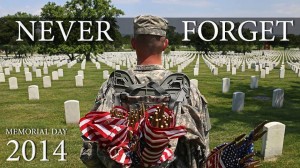 A hero is one who has given his or her life to something bigger than oneself."
Joseph Campbell
Picnics, Barbecues, Sunshine, Softball, Sobriety, time with family and friends! These are all great reasons to grateful for this beautiful spring day. Before Sobriety, I took almost everything for granted and rarely stopped to give thanks to anyone for anything. Today, things are different, I am filled with gratitude for a life filled with joy and abundance. Now, I am able to take some time out of my wonderful life to give thanks to all those who have served and sacrificed for our country. We are all in debt to those true heroes who have secured the freedom and opportunity we have today.
I am grateful for the many friends I have met through Jaywalker who have not only served their country with honor but continue to serve those in need. Adam, a veteran who is co-founder of Purple Star Veterans an Families. Bill, a former marine who has helped me both personally and professionally. Steve and Ryan, two fellow Jaywalkers who conquered addiction and volunteer to help those still struggling. Dave, a co-worker, who shares his experience, strength, and hope on a daily basis to help our Jaywalker men. I've been truly blessed to have these men in my life and don't hesitate for a second to call them heroes.
Enjoy your Memorial Day, but remember to take a moment to remember and reflect on the true meaning of this holiday. Keep forever the women and men who serve, have served, or made the ultimate sacrifice for our country. I am truly grateful for your service and will say a prayer for all of our heroes and their families.
With Gratitude,
Mark Kloster
Alumni Coordinator