Marijuana and the Teenage Brain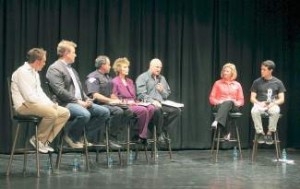 Marijuana and the teenage brain do not mix in my personal opinion…until you're older you should avoid it."
James Leonard, owner of Doctor's Garden Recreational Marijuana
A large, diverse crowd was present at last Thursday nights community event which sought to educate our community on the risks of youth cannabis consumption. With the passage of Amendment 64, which legalized the recreational use by adults over 21 years old in Colorado there is concern about availibility and social acceptability of marijuana among our youth. The panel discussion was organized by Youth Zone and Roaring ForkLeadership and simulcast by Be Heard Youth media to Glenwood Springs and Rifle High School. Participating panelists were Dr. Jonathan Birnkrant, Shelly Evans, Michael Zimmerman, Frankie Grundler, and James Leonard.
Dr. Birnkrant, an adolescent and adult psychiatrist, informed the audience on the latest neuroscience and the negative effects of THC on the still-developing teen brain. Evans, executive director of Community Health Initiative gave the audience tips for spotting warning signs of possible marijuana use. Zimmerman, Carbondale's school police resource officer believes he is seeing more marijuana use and at younger ages. He did give kudos to James and Doctor's Garden for their cooperation and commitment to keeping those under 21 from illegally obtaining pot.
Frankie Grundler, co-founder of New Path and Jaywalker Alumni, shared about his personal experience with addiction and his Recovery journey. He urged the students in the audience to "find out what you love and pursue it with passion." Frankie also stated that he felt the "dispensaries were not the problem, the illegal dealers are."
My takeaway from the evening was that the dispensaries and law enforcement are working together to ensure that those who wish to legally try and use marijuana can do so as safely as possible, not unlike the regulation of alcohol for those over 21. In addition, the community is working to educate itself and rally all the resources available to help ensure that cannabis is not easily available to teens. Lastly, I was impressed by the cooperative spirit of all the participants and their sincere desire to protect the health and welfare of our youth.
For more information you can visit the Facebook page: Colorado Teen Weed Brain
With Gratitude,
Mark Kloster
Alumni Coordinator