ManTherapy.org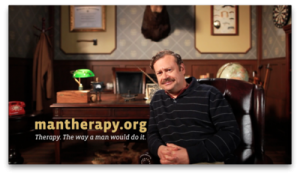 Campaign uses humor to help men tackle depression, divorce, and suicidal thoughts!
Man Therapy is a mental health and suicide prevention campaign targeting men (25-54) that employs humor to cut through stigma and tackle issues like depression, anxiety, substance abuse and suicidal thoughts head-on, the way a man would do it. The campaign is built around the fictional "therapist" named Dr. Rich Mahogany, who is a no-nonsense man's man that let's men know that honest talk about life's problems, getting help, and taking ownership of their issues and the solutions, is indeed masculine. There exists an age old stigma that says mental health disorders are un-manly signs of weakness and therefore men, who are at greater risk, are less likely to access mental health services. Consider the following facts:
– Colorado currently has the sixth highest suicide rate in the nation
– 4 out of 5 people who die by suicide are Men
– Men are twice as likely to suffer from anger and rage issues
– Over 6 million men(7% of population) are diagnosed with depression each year
– 90 % of men who die by suicide have a diagnosable mental health issues
– Suicide is the second leading cause of death for men 25 to 34
– Over a third of people who died by suicide tested positive for alcohol or drugs
Man Therapy's groundbreaking campaign and award winning website; mantherapy.org provides men approaching crisis, and their loved ones, a place to go to learn more about men's mental health, examine their own, and consider a wide array of options and actions that will put them on the path to treatment and recovery.
As Dr. Mahogany says; "You can't fix your Mental Health with Duct Tape"!
Mark Kloster
Alumni Coordinator